Watch Video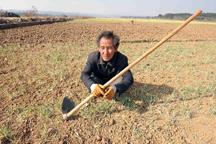 Play Video
Now let's turn to the drought in Southwest China's Yunnan Province. Official data show that 20 million hectares of areas were affected by medium or above level drought. As the drought continues in the province, let's find more about its causes.
In Yunnan, drought has taken full control of the central and eastern parts of the province.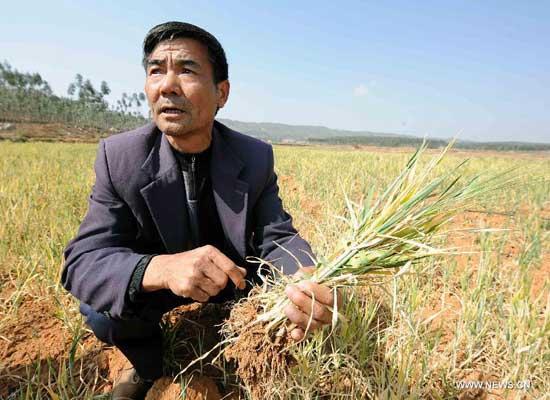 Wang Desheng, a local farmer, shows the dried-up wheat at Xiaoji Village of Luliang
County in Qujing City, southwest China's Yunnan Province, Feb. 17, 2012. According to
latest figures from provincial civil affairs authorities, about 6.31 million people
in 91 counties in the province have been affected by the drought as of Feb. 16. The
drought has left more than 2.42 million people and 1.55 million livestock short of
drinking water.(Xinhua/Yang Zongyou)
Among the one hundred and twelve monitoring stations, nine have recorded the highest level of drought level, while sixty have seen severe levels.
Including areas that have seen medium levels of drought, the province has suffered an increase of eighty from half a month ago.
Zhang Cunjie with China Meteorological Administration said: "For three consecutive years, Yunnan has been lacking rainfall. And the rainfall this year has shrunk. As such, the accumulative effects contribute to the heavy drought in the province."
In fact, precipitation over the last three years has seen a dramatic drop.
The province's average rainfall in 2009 was 942.6 millimeters, the least since 1961;
In 2011, its rainfall was 958.1 millimeters, the second least since 1961.
And among those affected areas, the middle and east part of the province have seen the worst situation.
Zhang said: "As it becomes warmer, more steam will be produced. And small and medium amounts of rain will be produced. But the rain won't help a lot. Only when the rainy season comes will the drought be alleviated."
Southern part of Sichuan province and southwestern area of Tibet, and the eastern North China Plain are also suffering from drought.
The related departments have been advised to strengthen drought-combating and fire-prevention work.
A young girl and her mother wait to fetch water at Daji Village
of Luliang County in Qujing City, southwest China's Yunnan Province,
Feb. 17, 2012. According to latest figures from provincial civil
affairs authorities, about 6.31 million people in 91 counties
in the province have been affected by the drought as of Feb. 16.
The drought has left more than 2.42 million people and 1.55 million
livestock short of drinking water.(Xinhua/Yang Zongyou)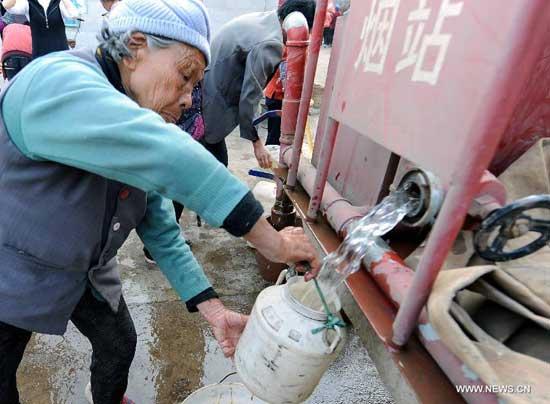 An old woman fetches water at Weize Village of Luoping County in Qujing City,
southwest China's Yunnan Province, Feb. 15, 2012. According to latest figures from
provincial civil affairs authorities, about 6.31 million people in 91 counties in the
province have been affected by the drought as of Feb. 16. The drought has left more
than 2.42 million people and 1.55 million livestock short of drinking water.
(Xinhua/Yang Zongyou)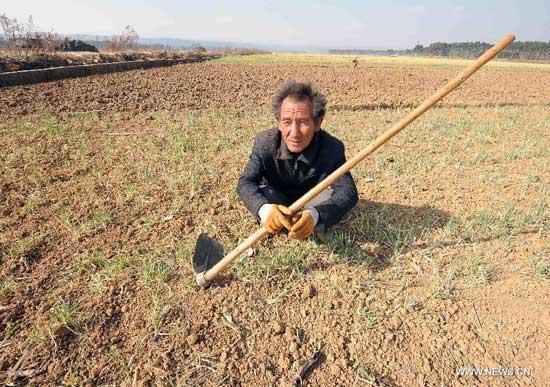 Zhu Yunsheng, a local farmer, shows the dried-up wheat field at Shizikou Village of
Luliang County in Qujing City, southwest China's Yunnan Province, Feb. 17, 2012.
According to latest figures from provincial civil affairs authorities, about 6.31
million people in 91 counties in the province have been affected by the drought as of
Feb. 16. The drought has left more than 2.42 million people and 1.55 million
livestock short of drinking water.(Xinhua/Yang Zongyou)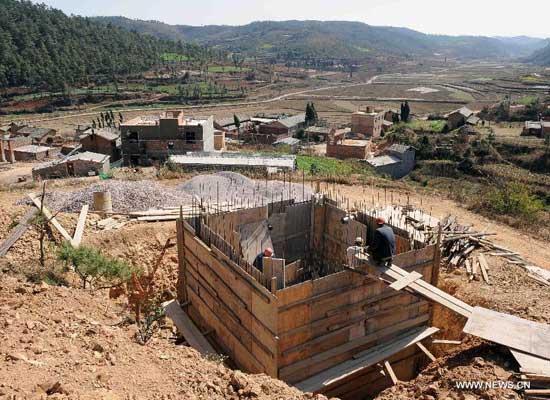 Workers build a water conservation tank to offer drinking water to drought affected
villagers in Qujing City, southwest China's Yunnan Province, Feb. 13, 2012. According
to latest figures from provincial civil affairs authorities, about 6.31 million
people in 91 counties in the province have been affected by the drought as of Feb.
16. The drought has left more than 2.42 million people and 1.55 million livestock
short of drinking water.(Xinhua/Yang Zongyou)
Editor:Zhang Rui |Source: CNTV.CN