Watch Video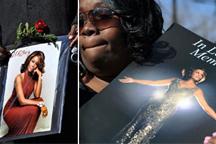 Play Video
Late pop diva Whitney Houston has been laid to rest. Her funeral was held Saturday at the New Hope Baptist Church in her home state of New Jersey. The low-key service was only open to family members and close friends. But thousands of fans gathered near the church to pay their own tributes to one of the most memorable of vocalists.
It was only fitting that Whitney Houston's Life be celebrated in Song, in the church she sang in as a little girl.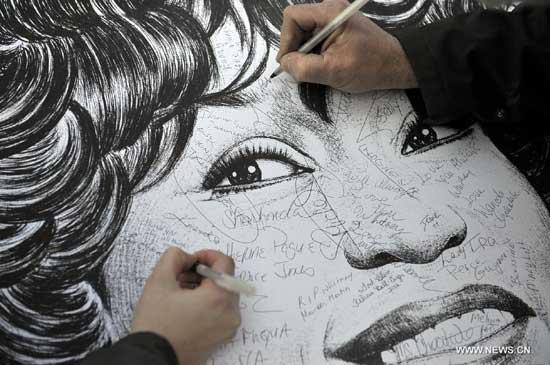 Fans sign on a picture of Whitney Houston near her funeral at New Hope Baptist Church
in Newark, New Jersey, the United States, Feb. 18, 2012. (Xinhua/Wang Fang)
As well as family Friends
Stars who shared the screen with her.
Actor Kevin Costner said: "So off you go Whitney. Off you go. Escorted by an army of angels, to your heavenly father, when you sing before him don't you worry, you'll be good enough."
And while there was song and smiles there were also tears former husband Bobby Browns emotion evident.
Reporter: "The New Hope Baptist Church where Whitney Houston sung in the choir as a girl is now ringing out in praise of her life and her contribution to this community they will miss her but they will always remember where she came from and how far she got."
But it wasn't just locals These 3 women drove over 4 hours from Washington DC to be here.
Whitney Houston fan said: "I just wanted to let her know that she was loved by everyone she is truly missed , truly miss her , truly miss her."
Fans however were only allowed a few blocks from the funeral, along with the media to preserve the Houston family's dignity, but most were happy to be this close to mourn a musician who meant much in their lives.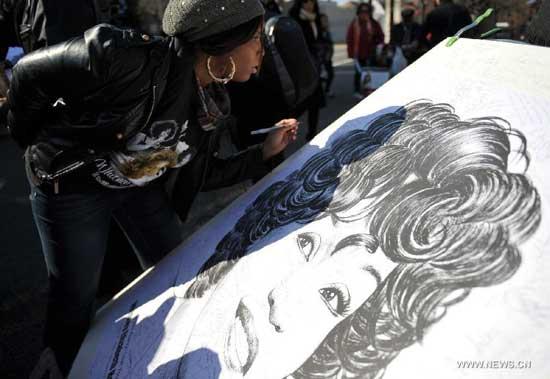 A fan signs on a picture of Whitney Houston near her funeral at New Hope Baptist
Church in Newark, New Jersey, the United States, Feb. 18, 2012. (Xinhua/Wang Fang)