Watch Video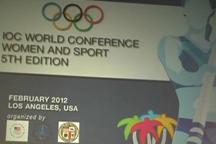 Play Video
Some of the biggest names in world sport have gathered in Los Angeles, California for the International Olympic Committee's World Conference on Women and Sport. The conference is aimed at improving gender equality across the sporting world.
With that familiar sound, the International Olympic Committee opened its 5th World Conference on women and sport. This 5th edition of the conference is being held in Los Angeles, home to the 1932 and 1984 Olympic Games.
The mission of this conference: find ways to improve women's participation in sports on the field, in the coaching ranks and in the board rooms. Among the 750 delegates in attendance from 140 nations.
London Olympic Games chairman Lord Sebastian Coe. IOC Women and sport Commission chair Anita Defrantz. Olympians Michelle Kwan and Julie Foudy, Tennis Legend Billie Jean King and IOC President Jacques Rogge.
Jacques Rogge said: "We need more women leaders throughout the Olympic movement not only to prove our commitment to gender equality, but to take advantage of their brains, their energy and their creativity."
As part of the opening ceremony of the conference, the continental winners of the women and sport awards were presented their trophies for their tireless efforts. One recipient each was selected from Africa, the Americas, Asia, Europe, Oceania and the overall world winner.
The increased role of women in sport is most evident on the field of play. In 1984 at the Olympics in Los Angeles only 23 percent of the athletes were women. At the games in Beijing 43 percent were women. That number is expected to rise to 45 percent this summer in London where for the first time ever. All of the sports will have female competitors.
Women and Sport Commission Chair Anita Defrantz said: "They're the same athletes aspiring to the same greatness. It just seems when we have the framework of the Games people respect the women athletes, as they should. "
Reporter: "During the conference the delegates will continue to advocate for their theme 'Together Stronger' by exploring a variety of topics to improve women's involvement in all areas of sport."
Editor:Zhang Rui |Source: CNTV.CN