Watch Video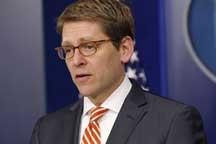 Play Video
The White House has welcomed the DPRK's agreement to suspend uranium enrichment and nuclear and long-range missile tests, in exchange for food aid.
Earlier, US Secretary of State Hillary Rodham Clinton said the United States will meet with the DPRK to finalize details for a proposed package of 240,000 metric tons of food aid.
White House spokesman Jay Carney made the comments on Wednesday following the breakthrough in negotiations between the two countries.
Jay Carney said, "The agreements that the North Koreans have made are very welcome, but obviously they need to be followed up by actions and commitments to do something are one thing, actually doing them are another. So, we will pursue this policy area with that approach in mind. So, again a positive first step. This is certainly a notable development. But we need to focus on actions as well as agreements and statements."
Related stories
Editor:Zhang Dan |Source: CNTV.CN