Watch Video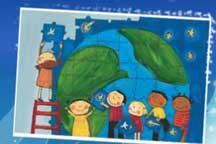 Play Video
UNICEF has released its flagship report "The State of the World's Children 2012." The report calls for more emphasis on marginalized children in cities worldwide. In China, a huge number of children suffer from disparities as urbanization rapidly unfolds.
"Children in an Urban World" is the theme of this year's UNICEF annual report. It notes that the current social infrastructure and services for children are unable to meet the rapid pace of urbanization around the world. And China is a typical case.
Zhang Yali, specialist of UNICEF, Social Policy & Reform for Children, said, "We're concerned with children who are affected by migration. That means that their parents have to move from their rural home town to work in the urban areas."
In the last two decades, the world has witnessed China's stunningly fast urbanization. A mass population of migrant workers has flooded into the cities for jobs, inflicting substantial impact upon their children. Nearly 14 million of these children are living with their parents in the cities. Due to the time required to institute new policies and laws, they suffer a lack of access to formal schools, health care and sanitation.
Zhang Yali said, "For migrant children, I think the basic problem is that they face the challenge of having equal access to basic social services of children, such as access to basic education, including pre-school education, compulsory education, and to post compulsory education."
Instead of following their parents to live in cities, the majority of more than 58 million children of migrant workers live in rural area. They are sometimes considered left-behind children. Zhang Yali said while they are faced with many living problems, they also suffer loneliness and anxiety as they rarely see their parents.
Duan Chengrong, director of Population Research Institute in Renmin University, said, "The core aspect of tackling the issue lies with the government, society and the related institutions. They have to take these marginalized children as their own kids. I think since our cities have undergone rapid growth, they are completely able to meet the needs of these children."
The youngsters are the future of a country. To provide them with equal living and studying conditions is paving the way for a better future. This needs concerted efforts from the whole society.
Editor:Zhang Dan |Source: CNTV.CN