Watch Video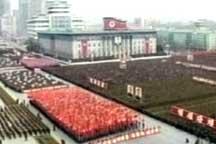 Play Video
The Democratic People's Republic of Korea's military has held a grand oath-taking rally in Kim Il Sung Square in the capital Pyongyang. Some 100, 000 Pyongyang residents and soldiers attended the event to pledge their loyalty to the state.
Crowds fill Kim II Sung Square. They denounced recent actions by the South Korean military they say "humiliated the supreme dignity of the DPRK".
Officials in Pyongyang earlier condemned the South Korean government over one of its military units in Incheon, who displayed pictures of late leader Kim Jong Il and new leader Kim Jong Un alongside derogatory statements.
During the rally, the Chief of the General Staff, Ri Yong Ho, delivered a scathing statement. Ri Yong Ho, DPRK Chief of the General Staff, said, "Our soldiers and civilians are full of hatred and resentment at the war games and the smell of gun powder by the Lee Myung-bak traitor group and the American imperialistic barefaced robbers."
The rally also comes on top of recent tensions on the peninsula over joint military drills held by South Korea and the US. The DPRK said on Saturday that dialogue and military drills should not take place at the same time. It urged the US to stop what it described as "aggressive" drills and change its policies towards the DPRK.
The tough talk from Pyongyang also follows an announcement by the DPRK on March 1st, that it would halt major aspects of its nuclear weapons program and allow the return of international inspectors, in exchange for food aid from the US.
Related stories
Editor:Zhang Dan |Source: CNTV.CN