Watch Video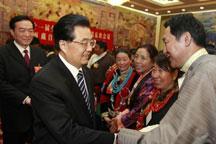 Play Video
President Hu Jintao and other senior leaders have joined NPC deputies in panel discussions at the ongoing session of the National People's Congress. Unity, development and people's livelihood were key words in Friday's discussions.
In a meeting with deputies from Tibet Autonomous Region, President Hu Jintao stressed maintaining national integrity, ethnic unity and social stability in Tibet.
He asked people to work for the construction of a socialist new Tibet and called for more spending on upgrades for basic public services.
Premier Wen Jiabao joined in the panel discussions on Guangxi Zhuang Autonomous Region. He said Guangxi has enjoyed sound development during recent years. He stressed that the local government should attach great importance to both ethnic unity and economic growth.
Chinese President Hu Jintao (L, front), who is also General Secretary of the Central
Committee of the Communist Party of China (CPC) and Chairman of the Central Military
Commission, visits deputies to the Fifth Session of the 11th National People's Congress
(NPC) from southwest China's Tibet Autonomous Region and joins their panel discussion in
Beijing, capital of China, March 9, 2012. (Xinhua/Ju Peng)
Li Changchun, a senior CPC leader, spoke with NPC deputies from Hainan. He called on Hainan to make full use of its advantages in tourism so as to expand consumption and increase employment.
Vice President Xi Jinping met with deputies from Xinjiang Uygur Autonomous Region, stressing that development and stability in the region are priorities.
During discussions with the delegation from Fujian province, Vice premier Li Keqiang encouraged Fujian, a coastal province, to speed up the transformation of growth mode.
Senior CPC leaders, He Guoqiang, met with deputies from Henan province. He urged Henan to facilitate economic restructure while improving social livelihood. He also stressed anti-corruption work.