Watch Video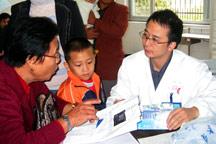 Play Video
Experts meeting during the CPPCC session discussing the country's continuing healthcare reforms have called for a more open market to give people more access to medical resources.
China's medical reform during the 12th Five-Year plan period will do away with the practice of subsidizing doctors and nurses' pay through the sale of medicines.
Wu Mingjiang, CPPCC member, said, "As for the reform of the practice of hospitals subsidizing their medical services with drug sales, I want to say that as a public hospital is an individual entity in the market economy. Because the policy started during the 1950s, it wasn't a problem during the planned economy. But it's not right for a market economy. This policy doesn't reflect the true value of doctors who have superior knowledge and work in an intense and risky environment. The reform needs more effort from the government, and it will take time to adjust. "
The central government has recently issued a series of policies and measures to encourage private investment into the medical sector. But it still faces operating difficulties, including the high registration fee to see a doctor or get treatment, applying for government research fund, and tax exemption. In response, CPPCC member Wang Zhili welcomes more variety in the medical system.
Wang Zhili, CPPCC member, said," The government needs to diversify the medical care system and welcome more social efforts. Our President, Hu Jintao said earlier we will continuously enhance social security and improve people's well-being. "
Another CPPCC member stressed the importance of more quality private hospitals, which should also serve rural areas.
Li Liming, CPPCC member, said "To increase people's access to health care resources needs a more open health care market. On one hand, we need to constantly improve the Medicare quality of our public hospitals. On the other hand, more quality, private hospitals are also need to be put into place. These private hospitals can provide high quality healthcare service at different price level, which can meet the demand of different income groups."
Related stories
Editor:Zhang Hao |Source: CNTV.CN