Watch Video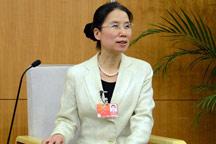 Play Video
China's Yang Jia is vice-chair of the United Nations Committee on the Rights of Persons with Disabilities. She herself was diagnosed with macular degeneration at 29, which let her ultimate blindness. She's the only visually impaired CPPCC member. CCTV reporter Han Bin talks with Professor Yang, who says her role as one of China's political adivisors is to be a crusader for those with disabilities.
Yang Jia said, " Now I have no eyesight but I have insight. From my own example, you can see how one can realise one's dream and be part of the society.
We serve as China's think tank, many of our proposals are not just targeting at everyday life, some of the proposals are really far-sighed, i think for these strategic proposals, the country should pay more attention to that, not until some crisis comes along. I think in that way we can make the world a better place and make this political process more efficient.
My proposals for this year's conference, one of them is a call for the making of the anti job discrimination law in China, because you still see discrimination in the employment process regarding women and persons with disabilities, so that is my role.
I think I will be a ceaseless fighter for persons with disabilities and also for the marginalized groups, our mission is to march towards a more just society."
Related stories
Editor:Zhang Hao |Source: CNTV.CN