Watch Video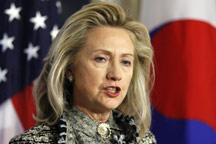 Play Video
The United States says it won't let the recent progress in its nuclear diplomacy with the DPRK affect its close relations with key ally South Korea.
Secretary of State Hillary Clinton offered the reassurance after meeting South Korean Foreign Minister Kim Sung-hwan in Washington. Meanwhile, a prominent Democrat Senator, John Kerry has met the DPRK's nuclear envoy, Vice Foreign Minister Ri Yong-ho, who's promised to live up to commitments made in an agreement last week with the United States.
The nuclear envoys of both DPRK and South Korea were among representatives from eight countries taking part in 2012 New York conference on peace and cooperation in Notheast Asia last week.
Professor Stuart Thorson from Syracuse University who also took part in the talks said he is positive about the result.
Professor Stuart Thorson from Syracuse University said,"I think everyone recognises that timing is important in everything from tennis to high politics, and in this case I think the timing is propitious, and I believe all of us were delighted to be able to provide an environment, a safe environment, as Christoph said, in which people could have really, frankly and collegially, exchange their views on ways forward."
Related stories
Editor:Zhang Hao |Source: CNTV.CN