Watch Video
Play Video
Finance ministers from the seventeen eurozone countries have politically adopted a second bailout plan for Greece. Turning their attention to Spain's debt, it was agreed to ease the country's deficit target for this year to 5.3 percent from 5.8 per cent.
Officially adopting the second bailout plan for Greece, it is worth 130-billion-euro.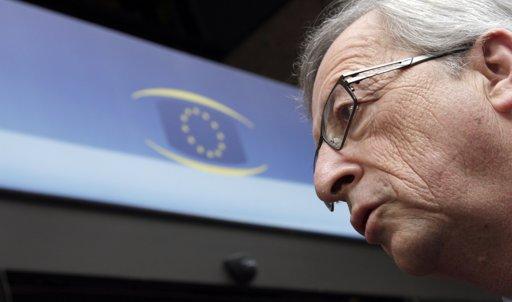 Luxembourg's Prime Minister and Chairman of the eurogroup, Jean-Claude Juncker, speaks
with the media as he arrives for a meeting of eurozone finance ministers at the EU
Council building in Brussels on Monday, March 12, 2012.
Jean-Clause Juncker, Eurogroup President, said, "The new Greek programme is not only in its starting blocks but has been politically adopted tonight by the Eurogroup."
It is due to come into effect next Wednesday when the Eurogroup will check whether all required procedures have been fulfilled. However, this depends on whether the IMF will contribute 28 billion euros to the bailout plan. But the Eurogroup is confident the IMF's decision will point in the right direction.
Should all this work out, the debt swap will allow the Greek debt-to-GDP ratio decline to 117 percent in 2020.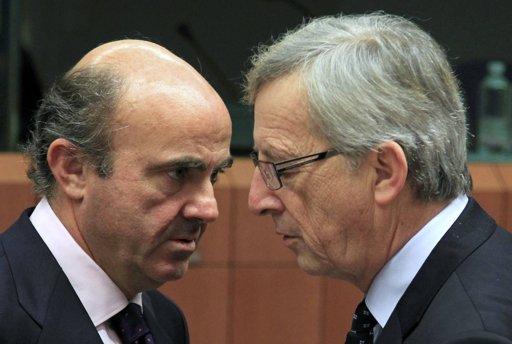 Spain's Economy Minister Luis de Guindos (L) talks with Luxembourg's Prime Minister
and Eurogroup chairman Jean-Claude Juncker at a Eurogroup meeting in Brussels March
12, 2012.
In Brussels the focus was also on Spain and its high deficits. The country is determined to sort out its debt and unemployment.
Luis de Guindos, Spanish Finance Minister, said, "There is no doubt about the Spanish commitment to the fiscal adjustment in this complex environment."
As ministers chatted with each other at the meeting, the Eurogroup President jokingly grabbed the Spanish finance minister by the neck with both hands.
Juncker's gesture may have been a joke, but eurozone ministers have real reason to be frustrated with Spain. The new Spanish Prime Minister Mariano Rajoy said earlier this month that his country would run a deficit of 5.8 percent of economic output this year - far above the 4.4 percent it had promised to the rest of the eurozone.
Taking this into account, Eurozone finance ministers decided to ease the 2012 deficit target for Spain to 5.3 percent.
Related stories
Editor:Zhang Dan |Source: CNTV.CN