Watch Video
Play Video
French President Nicolas Sarkozy has surged into the lead in the election opinion polls. It follows his handling of the crisis in Toulouse where a gunman suspected of killing of seven people was shot dead.
Nicolas Sarkozy may benefit politically from the horror of the Toulouse shootings. A poll by CSA puts him two points ahead, at 30 percent, of his Socialist rival, Francois Hollande. That's the highest score for Sarkozy so far in this campaign.
France's President and UMP party candidate for the 2012 French presidential
elections Nicolas Sarkozy delivers a speech at a political rally in
Strasbourg, March 22, 2012. REUTERS/Christian Hartmann
Jean-Daniel Levy, director of Harris Interactive France, said, "We are seeing for now is that the Toulouse shootings and siege is a little better for Nicolas Sarkozy, the incumbent."
The cold-blooded shootings of seven people, including three Jewish schoolchildren, forced politicians to suspend normal campaigning while a giant manhunt closed in on the 23-year-old gunman. That ended in a cacophony of gunfire shortly before midday on Thursday, after a 30-hour siege in the southern city of Toulouse.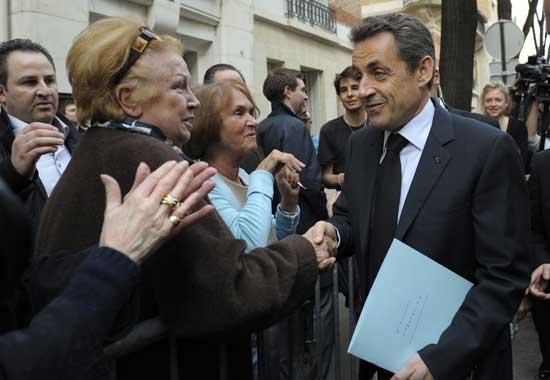 Nicolas Sarkozy (R), France's President and UMP party candidate for 2012 French
presidential election, shakes hands with residents as he leaves his campaign
headquarters after a meeting with his team in Paris March 22, 2012.
Before the killings and dramatic siege, Francois Hollande had long been the pollster's favorite to unseat the divisive conservative president. But the fall-out from the shootings has brought much attention to the president, thanks to his statesmanlike role as a dependable crime fighter.
However, some also argue that the issue may not be a decisive factor. It's too soon to tell definitively how the two-day standoff could affect Sarkozy's chances for a second term.
French terror suspect shot dead by police
A police siege in the French city of Toulouse has ended after a 32-hour standoff. The 23-year-old Muslim who admitted killing seven people was shot dead during the firefight with an elite police squad that was attempting to capture him alive. Full story >>
French prosecutor: Toulouse killer filmed his deadly attacks
Prosecutor Francois Molins revealed that Merah had earlier told police about a camera on which he had filmed footage of the assaults. Full story >>
Jihadist group claims responsibility for French shooting
The SITE Intelligence Group, which monitors Internet messages, reports that a lesser-known Jihadist group is claiming responsibility for the recent attacks in France. Full story >>

Related stories