Watch Video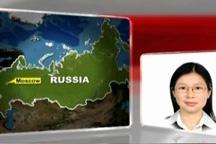 Play Video
A passenger plane has crashed in Russia's Siberia region. Reports say there were 41 to 43 people on board. <Read more>
For more information about the plane crash, we are joined on the phone by CCTV Moscow correspondent Wang Ying.
Question 1: Wang Ying, what's the latest information you have about the accident? Could you update us on the casualties and any other information?
Question 2: What about the rescue operation? What are the Russian authorities doing?
Editor:Shi Jierui |Source: CNTV