Watch Video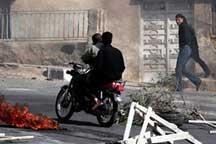 Play Video
Syrian activists say at least 27 soldiers, rebels and civilians have been killed in the latest wave of violence. It came four days before a troop pullback agreed by President Bashar al-Assad as part of a U.N.-backed peace plan.
The Free Syrian Army said it had met a delegation from peace envoy Kofi Annan this week and confirmed its fighters would stop shooting if Assad withdraws his tanks and troops to barracks before a ceasefire deadline next Thursday.
The plan calls for a troop withdrawal by April 10th and a ceasefire by April 12th. Assad told Annan two weeks ago he had accepted the terms. The Annan plan does not stipulate a withdrawal to barracks. It says the army must "begin pullback of military concentrations in and around population centres".
Meanwhile, the official SANA news agency reported a total of 97 detainees who were arrested during the year-long unrest were released on Friday.
SANA said they were released under the belief that they didn't take part in shedding Syrian blood.
Editor:Liu Fang |Source: CNTV.CN