Watch Video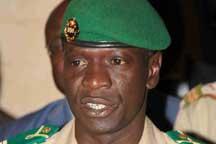 Play Video
Mali's coup leaders have reached an agreement with neighbouring countries to hand back power in return for the end of trade and diplomatic sanctions.
The announcement came just hours after separatist rebels in the country's north declared independence.
Captain Amadou Haya Sanogo has served as the de facto head of government for the past 16 days, since he and his men stormed the presidential palace.
Flanked by the ministers of neighbouring nations, he read out the accord.
Capt. Amadou Haya Sanogo said, "In the event of the vacancy of the presidency of the republic for whatever reason, or due to any absolute and definitive impediment, the functions of the President of the Republic will be exercised by the President of the National Assembly."
However, the agreement does not say when the head of the assembly will assume the post, or how long the transition will last before new elections.
The declaration was welcomed by Burkina Faso Foreign Minister, Djibril Bassole.
Djibril Bassole said, "We have reached an accord which allows us to put in place the constitutional organs which will function in a regular manner."
A senior official in the negotiations says the accord means Sanogo has finally chosen to put the country back on a democratic path.
Editor:Liu Fang |Source: CNTV.CN