Watch Video
Play Video
Fierce fighting continues in Syria -- days before a scheduled ceasefire. The deadline is part of a UN-Arab League peace plan for Syrian troops to withdraw from urban areas.
Special Envoy Kofi Annan--calling for the ceasefire at the UN earlier this week. Kofi Annan said, "There is an urgent need to stop the killing, the abuses and bring humanitarian relief to the suffering population."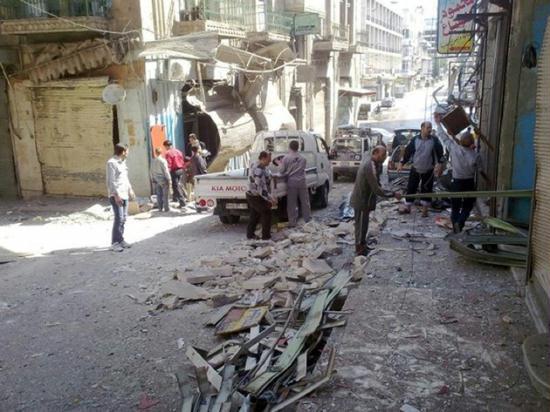 A picture released by opposition group Hama Revolution 2011 on April 6 shows destruction in
the city of Hama after reported clashes between Syrian government forces and rebel groups.
His efforts backed by a UN presidential statement. But serious questions remain over monitoring of events on the ground leading up to the proposed ceasefire and then the truce itself. Mr. Annan says if the truce succeeds in the coming days, he will send in a 200-strong mobile UN monitoring team.
Syrian's ambassador to the UN says his government will keep its promise.
Bashar Ja'afari, Syrian Ambassador to the UN, said, "The Syrian government is committed to making the mission of Kofi Annan's a successful one. The withdrawal of the heavy weaponry will take place by April the 10th."
The US ambassador the Syria, Robert Ford, who is now working from Washington, DC, has posted commercial satellite images.
He says they show that in some areas, like Daraa, government forces have indeed withdrawn, but that in other urban areas -- Zabadani, Homs, and the Aazaz area in Idlib--the images show tanks and heavy artillery are still present.
Amateur video shows Syrian army helicopters over the village of Kalla near the Turkshi border, and Turkey reports almost 3000 Syrians have fled across its border in the past 36 hours--their foreign minister saying that soon Turkey will not be able to house the now 24,000 refugess alone.
Amateur footage showing mass graves and shelling continues to stream from the cities of Homs andAleppo. The "facts on the ground" still seem very unclear.
Editor:Zhang Dan |Source: CNTV.CN