Watch Video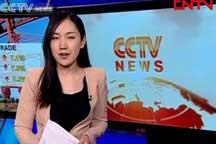 Play Video
China's Ministry of Commerce has released fresh economic figures for this year's first quarter. Full story >>
For more about the trade data we are joined in the studio by our reporter Guan Xin.
Q. How does the market see the data?
A: Investors are closely watching the trade data for March, to gauge whether the world's second largest economy can achieve a soft landing. The growth rate of 7.1% in March is lower than the 10 percent target of foreign trade growth this year, meaning the foreign trade environment is still challenging. For the first quarter, the growth rate of 7.3% is a new low from 9.2% in the fourth quarter last year. It shows foreign trade is still facing downward pressure due to global economic uncertainties. And surprisingly, China's foreign trade swung back into surplus territory in March notching 5.3 billion US dollars. The surplus in March is due to higher than expected export growth, and lower-than-expected import growth. China's imports grew 5.3 % in March while exports climbed 8.9%. That indicates the external demand is picking up, while domestic demand is weakening.
Editor:Zhang Dan |Source: CNTV.CN