Watch Video
Play Video
It's 12pm, Beijng time, and 7am in Damascus, just over an hour since a deadline passed for a ceasefire in Syria set by UN-Arab League envoy Kofi Annan. But on the ground, violence continued to rage on before the deadline throughout the country according to Reuters.
Under the UN deal, Syrian government forces were ordered to begin withdrawing troops from urban centres, while opposition fighters were ordered to stop fighitng.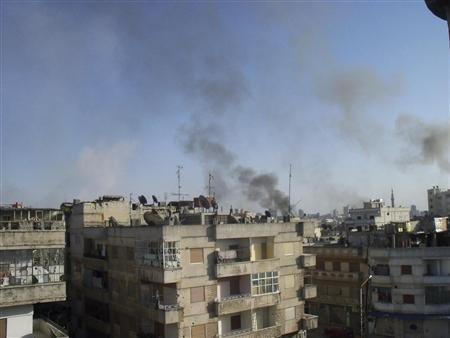 FILE: Smoke rises from the Al Qusoor district of Homs April 8, 2012. Picture
taken April 8, 2012. REUTERS/Waseem Al Qusoor/Shaam News Network/Handout
A full cease-fire on both sides was to be put into force within 48 hours. But on Sunday, the Syrian government demanded written guarantees from opposition fighters that they would put down their weapons.
Meanwhile the opposition said Free Syria Army's commitment to the ceasefire is dependent on the Assad government also abiding by it.
Hours before the deadline, fierce fighting raged on the ground. Gunfire also spilled over into other countries, wounding at least six people in a refugee camp in Turkey and killing a camera-man in Lebanon.
In Homs, buildings were set ablaze while repeated gunfire and shelling sounded out in the deserted streets. In Hama, activists reported 29 people were killed by shelling. Across the country, the activist group Local Coordination Committees updated its civilian and opposition death toll on Monday to 130.
Editor:Zhang Dan |Source: CNTV.CN