Watch Video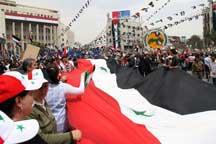 Play Video
As a country situated between three continents, Syria has a unique strategic importance. And due to its importance, whatever happens in Syria will have major ramifications throughout the region.
Syria is uniquely positioned between three continents: Asia, Africa, and Europe. As a result, all surrounding countries have a stake in the outcome of the crisis.
Take Russia for example. It vetoed the UN Security Council draft resolution that called for President Assad to step down, and is encouraging a peaceful resolution though dialogue. Syria is one of Russia's biggest allies in the Middle East. The two countries have extensive economic and commercial ties.
But analysts say Russia's support for the Assad government largely has to do with its fear of Turkey's rising regional influence. And part of that region is the Caucasus, right in Russia's backyard.
Syria is the centerpiece of Iran's expanding influence in the Middle East. It is the only Arab state to be openly allied with the non-Arab Iran. Through Syria, Iran has armed and directed Hezbollah, now the dominant power in Lebanon, and the Palestinian faction Hamas, which controls the Gaza Strip.
The violence continues although Syrian President Bashir al-Assad announced the acceptance of a peace plan put forward by the UN-Arab League special envoy to the country, Kofi Annan.
Annan's plan has won international backing. This time, Russia and China, which previously vetoed two UN Security Council resolutions, are on board.
Dmitry Medvedev, Russian President, said, "Maybe for Syria it is the last chance to avoid a long and bloody civil war. We will render you with all kinds of assistance at any level and in different directions, to the full extent of which Russia is capable of providing such assistance."
Hong Lei, Chinese Foreign Ministry spokesman, said, "China is willing to continue to play an active and constructive role in seeking a peaceful, reliable political solution to the Syria issue."
The United States continues to push for Assad to act.
Hillary Clinton, US Secretary of State, said, "To President Assad and his regime, we say long with the rest of the international community, take his path, commit to it, or face increasing pressure and isolation."
A new, potentially Western-backed government, in Syria could change the entire geopolitics of the Middle East. All parties concerned agree the crisis there must be resolved as soon as possible. But how largely depends on each party's individual interests.
Related stories
Editor:Zhang Dan |Source: CNTV.CN