Watch Video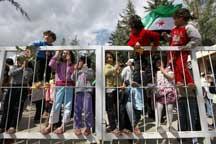 Play Video
Syria's yearlong violence has taken heavy toll on civilians. Some are struggling to survive in the face of the continuing hardship, while others have chosen to flee the country.
The turmoil in Syria has had a major impact on its economy - a situation that's been made even worse by international sanctions. The EU's ban on oil imports has likely hit the country hardest as oil revenues account for around 30 percent of the country's GDP.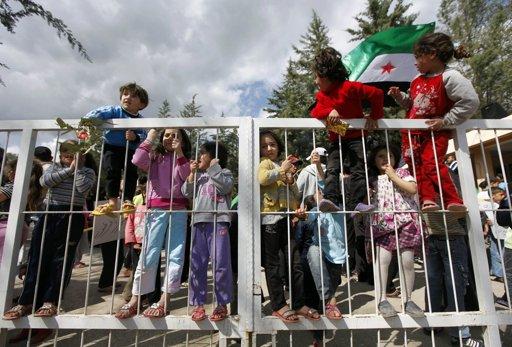 Syrian children climb over fences during a protest against Syria's President Bashar
al-Assad at Yayladagi refugee camp in Hatay province on the Turkish-Syrian border
March 30, 2012. REUTERS/Osman Orsal (TURKEY - Tags: POLITICS SOCIETY IMMIGRATION
CIVIL UNREST)
Because of the sanctions, regular power cuts and fuel shortages have become part of people's everyday lives - a fact that cannot be ignored even by those living in areas insulated from the revolt. Many districts in Damascus endure blackouts every day. And rural areas may feel two or three a day, lasting for two hours each.
Meanwhile, the sanctions have dealt a heavy blow to Syria's currency. Millions of poor are struggling to make ends meet as the falling value of the Syrian pound has pushed up the cost of imported goods. Prices have risen by some 25 percent. And facing sky-high prices, the country's citizens have sometimes found themselves unable to come across even basic goods like milk powder.
Tourism has traditionally made up another huge proportion of the Syrian economy. However, revenues have plunged by nearly 90 percent as tourists have fled the country's war-torn streets.
But the hardest challenges are found in the towns and villages ripped apart by the conflict. Reports from both the United Nations and the New York-based Human Rights Watch have accused both armed rebels and government forces of torturing people, including children. And thousands of Syrian refugees have been fleeing into neighbouring Turkey and Lebanon.
World leaders may be wringing their hands over a solution to the crisis, but for now it's the civilians on the streets whose lives are being shattered by the ongoing violence, and for whom finding a solution is most pressing.
Editor:Zhang Dan |Source: CNTV.CN