Watch Video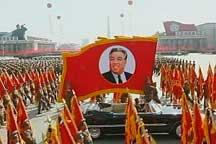 Play Video
The Democratic People's Republic of Korea has started a military parade in the capital Pyongyang. It is one of many activities planned to celebrate the centennial of the birth of the founding leader Kim Il Sung. The country's leader Kim Jong Un made a key note speech for the first time at such an event.
This is a mass parade showing DPRK's military muscles. Thousand of soldiers march through the large Kim-Il Sung Square amid thunderous cheers and clangorous music. More than 30 phalanxes of military forces, including air forces, are demonstrated in the parade.
The country's young new leader Kim Jong Un watched the march, and spoke publicly for the first time. He lauded the historic contributions to the DPRK's development by Kim Il Sung and Kim Jong IL, and offered the highest respect and honor to the two late leaders. Kim praised his grandfather's "military first" policy, and called for further strengthening this policy.
The new leader said DPRK had built a "mighty military" capable of both offence and defence in any type of modern warfare. He also said he is "heartbroken" that the rival Koreas have been divided for decades, and DPRK "will cooperate with anyone" who truly wishes for reunification. Noting that the country is facing a momentous opportunity, Kim Jong Un called upon the whole nation to stick to the path paved by his predecessors and strive for new victories.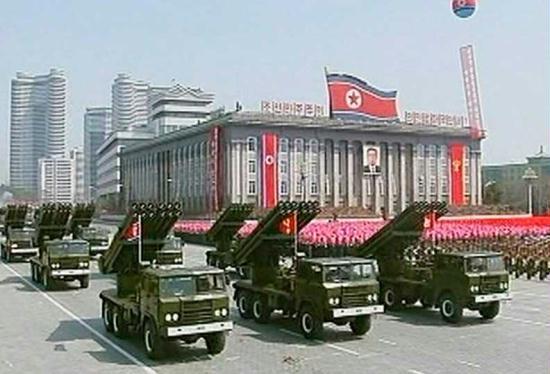 The Democratic People's Republic of Korea has started a military parade in the capital Pyongyang.
Kim did not mention the launch in his remarks. It seems the country wants to shrug off the failure of the satellite launch with enormous festive spirit. The speech itself was a big surprise after many years of silence from Kim's father when he presided over similar events.
The military parade is one of the many activities planned to mark the centenary of the birth of Kim Il Sung, who passed away in 1994. Only days ago, Kim Jong Un became first secretary of the Workers' Party of Korea, chairman of the WPK Central Military Commission and first chairman of the National Defence Commission.
Related stories
Editor:Zheng Limin |Source: CNTV.CN