Watch Video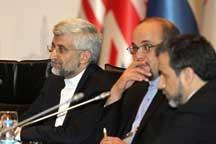 Play Video
Iran and the world's big powers have hailed their first nuclear meeting in more than a year as a key step toward further negotiations. Future talks would be aimed at easing international fears that Tehran may weaponise its nuclear programme.
After the seven hours talk, Iran's top nuclear negotiator, Saeed Jalili, revealed a positive outlook for continued discussions on the subject. He said all the participants carried out positive contact during the talks.
Saeed Jalili, Iran's Top Nuclear Negotiator, said, "In this round of talks we are in the early stages so we can not talk about anything achieved. We are very hopeful that the talks for cooperation, which started well today, will continue. We had a very good agreement based upon comprehensive and sustainable cooperation which is going to be formed within the framework for talks."
The one concrete reflection of progress was an agreement to meet again on the 23rd of May in Baghdad, a venue put forward by Iran.
"Our deputies have been mandated to facilitate a framework for these talks and if we can adopt this framework we are very hopeful for additional positive steps in the Baghdad talks." Saeed Jalili said.
But huge hurdles still lie in the way of a common understanding of what Iran should do to end suspicions of its nuclear activities.
Tehran has argued it has a right to enrichment to create reactor fuel under the Nuclear Nonproliferation Treaty, and insists it will never use that ability to create the fissile core of a nuclear warhead.
But the United States and other countries accuse Iran of repeatedly violating the treaty.
It has led to a climate of "mistrust" that Jalili said continues to threaten any potential agreement between his country and the US.
"For more than 30 years, a large wall of mistrust and lack of confidence has existed between Iran and the US. As long as such a wall of mistrust and lack of confidence exists, I don't see a good outlook for meeting with the US side now." Said Saeed Jalili.
The talks in Istanbul on Saturday saw the United States, Russia, China, Britain, France and Germany sitting at the same table with Iran.
Knowing the road ahead is tough, both sides focused on what they said was the positive tone of the talks.
Both sides agreed that they should solve the nuclear issues step by step.
Related stories
Editor:Zheng Limin |Source: CNTV.CN