Watch Video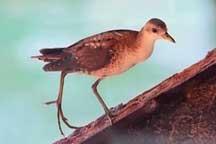 Play Video
Wild Arabia with National Geographic Al Arabiya - the world's largest photographic exhibition of Arabian wildlife was opened to the public in Abu Dhabi this week. This exhibit aims to create awareness of Arabian wildlife and will run until the 21st of April. CCTV correspondent Lourda Sexton reports on the exhibition and the Arabian wild life on display.
The Arabian Gulf is home to some of the world's most fascinating wildlife. Wildlife that has adapted to survive in some of the world's harshest weather conditions.
And for the first time ever, a photographic exhibition showcasing this wildlife has opened to the public in the UAE.
Caterina Lo Mascolo, Managing Director, Wild Arabia, said, "When I came here to Arabia I saw fantastic species and yet when I would talk about them abroad and locally people would be surprised to hear about the Arabian Orxy and the houbara bustard for example. So I really felt there was a possibility to create awareness about the Arabian species not just at a local level but internationally."
The goodwill ambassador for Wild Arabia, His Highness Sheikh Al Nuaimi, known as the green sheikh for his tireless environmental work opened the photographic exhibit.
And the audience were wowed by school children singing wildlife songs. And Arabian falcons on display.
Lourda Sexton, Abu Dhabi, said, "It's these beautiful photos around me that are showcasing for the first time ever the Arabian wildlife to the general public here."
Showcased in a large open space gallery. The exhibition displays a 100 stunning photographs of Arabian animals.
And it would be hard to miss them with each photo 180cm x 120cm in size.
National Geographic Al Arabiya provided the images, but told me sourcing the photos was a difficult task.
Ahmed Makled, Marketing Manager of National Geographic Al Arabiya, said, "Many of the photos here are from National Geographic's archive. But what we discovered and this is a fact that we are trying to change right now. There was a huge shortage of photographs covering wildlife in this part of the world."
One of the 100 images on display here is a mountain gazelle, an endangered species. Shot by Samer Amer Abbas, these gazelles are only found in a few spots across the world.
Samer Amer Abbas, Exhibition Photographer, said, "We were in Sir Baniyas Island and we were lucky to find this mountain gazelle doing this trick to eat because they don't do it anywhere in world just here as the trees are high."
Another species featured was the grey heron.
Nawal Khouildi, Exhibition Photographer, said, "They are endangered and they migrate from Europe and other places around the world and they only stop in the UAE. Just for winter and that's when you are supposed to get them It's a treasure and this is the only place they actually fly to."
With this exhibition free to the public and open 24/7. It is hoped that people in the UAE will now learn about the wildlife on their doorstep.
Editor:Zheng Limin |Source: CNTV.CN