Watch Video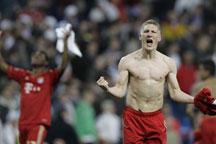 Play Video
Bayern Munich was attempting to become the first team to advance to a Champions League final at home on Wednesday night as they took on Real Madrid in leg two of their semi-final tie.
Bayern, winning leg one in Germany and were looking to make history on the road in Madrid. It was set up to be an exceptional match and this one, would not dissapoint.
Real Madrid, would level on aggregate early on...as a cross by Angel Di Maria went off a hand of sliding defender David Alaba, and the referee awarded a penalty.
And only six minutes in, Ronaldo would be sent to the spot...and he would not make a mistake. He sends the keeper the wrong way to make it 1-0 Real, and 2-2 on aggregate.
And just 8 minutes later it would be Ronaldo again, as he converts the Mesut Oezil feed. His 56th goal of the season giving Real the 3-2 aggregate lead.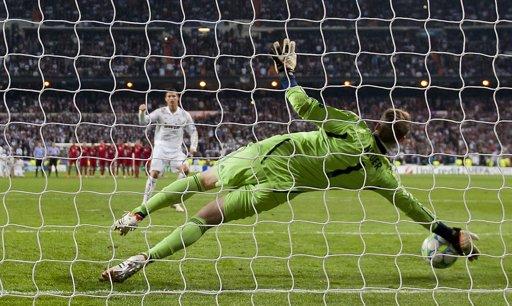 Bayern Munich goalkeeper Manuel Neuer saves a penalty kick by Cristiano
Ronaldo on his way to winning a semi final second leg Champions League
soccer match against Real Madrid's at the Santiago Bernabeu stadium,
in Madrid, Wednesday, April 25, 2012. (AP Photo/Daniel Ochoa de Olza)
But Bayern Munich would have a solid chnace to bring this one back on level terms after they were awarded a penalty kick after Pepe pushed Mario Gomez in the 27th minute.
And Arjen Robben would step up and convert to level the aggregate score in the series 3-3, and also evened the away goals at 1-1.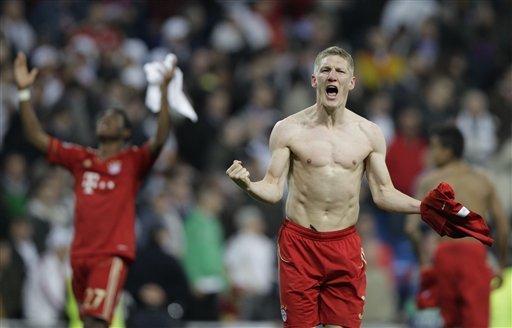 Bayern Munich's Bastian Schweinsteiger celebrates after Bayern Munich beat
Real Madrid on penalties during a semifinal, second leg Champions League
soccer match at the Santiago Bernabeu stadium in Madrid Wednesday April
25, 2012. (AP Photo/Paul White)
The score stayed that way through the second half and 30 minutes of overtime, forcing a shootout, the first in the semifinals since Liverpool defeated Chelsea in 2007.
In the shootout, Bayern got off to a good start as Alaba beat Iker Casillas with the first kick.
And then Bayern's Manuel Neuer saved Ronaldo's shot. Coming in, Ronaldo had converted 26 of 27 penalty kicks for Real Madrid.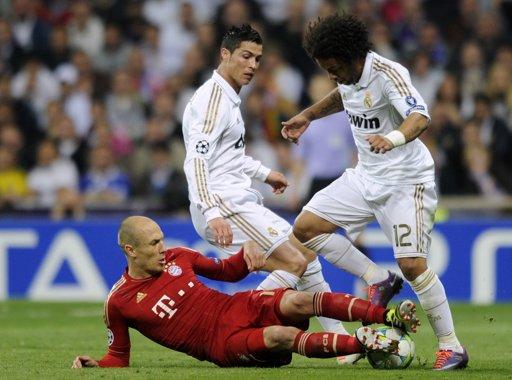 Bayern Munich's Dutch midfielder Arjen Robben (L) is tackled by Real
Madrid's Brazilian defender Marcelo (R) and Real Madrid's Portuguese
forward Cristiano Ronaldo during the UEFA Champions League second leg
semi-final football match Real Madrid against Bayern Munich at the
Santiago Bernabeu stadium in Madrid. (AFP Photo/Pierre-Philippe Marcou)
Mario Gomez converted his kick for a 2-0 lead, and after Neuer stopped Kaka's shot the German side was in control.
But a pair of stops by Casillas on Toni Kroos and Philip Lahm and a Xabi Alonso conversion left it at 2-1.
And after Sergio Ramos sent his shot high over the bar...Bastian Schweinsteiger put his shot straight down the middle...as Bayern knocks off Real Madrid 3-1 on penalties to advance to the final on their home field on May 19th, where they will take on Chelsea, who knocked off reigning champs Barcelona, for the UEFA Champions League crown.
Related stories
Editor:Zhang Jingya |Source: CNTV.CN