Watch Video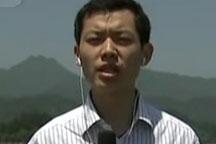 Play Video
There is a thousand-year old ancient city sleeping under Qiandao Lake. In 1959, lion city slipped from view under the rising waters of the Xi'an jingo reservoir. But Now the Chun'an county government has organized an expedition to explore the now-sunken city. Full Story>>
For more on the Qiandao Lake exploration, CCTV reporter Nie Jia joins us from the scene.
Hello Nie-jia,
Q1: Tell us where you are now and how the field condition is there? Is the camera team prepared and ready to embark on this exploration?
Q2: Paint us a picture of what this ancient city once looked like..
Thanks, that is CCTV reporter Nie Jia in Qian-dao Lake, Zhe-jiang Province.
Related stories
Editor:Zhang Jingya |Source: CNTV.CN