Watch Video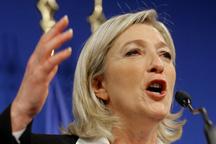 Play Video
Far-right leader Marine Le Pen stunned France by winning almost a fifth of the votes in the first round of the presidential election. Her third place position means she's out of race now, but she is still taking center stage in the debate. All eyes are on her 6.4 million voters who could be key in deciding who wins in Sunday's run off.
In the heart of France's northern rust-belt lies Henin Beaumont - a depressed, former coal mining town struggling with high unemployment and factory closures.
Le Pen is relishing in her role as kingmaker.
It is also a stronghold of Marine Le Pen's extreme far right party—Front National. In the first round of the presidential vote she scored over 35% here. The Front National say across France there are many towns, like Henin Beaumont, where a disgruntled working class are eager for change.
Steeve Briois, secretary general of Front National, said, "There is a feeling of abandonment. The French people think they have been abandoned by the power that is in place, and worse, they have been betrayed because Nicolas Sarkozy was elected in 2007 on a clear program, he made promises of less immigration, less delinquents and better buying power. He has failed in his mission, because he didn't keep his promises."
Sarkozy knows these are the voters who could keep him in power and his campaign rhetoric has veered even further to the right as he tries to close the gap on his socialist challenger by winning the support of Le Pen's followers.
But it's a risky strategy which could leave Sarkozy alienating the more center voters.
Edouard Lecerf, public opinion analyst, said, "Politically it is very complicated to convince these two electorates because the arguments which the they are the most sensitive about are not exactly the same. Talking to one side might anger and frustrate the others. To get support from those two electorates at the same time is very complicated, even more so because Francois Hollande is also able to seduce a part of the center electorate."
Le Pen is relishing in her role as kingmaker. In an impassioned speech to thousands of supporters she slammed Sarkozy's tough talk on tighter border controls and preserving the French identity as pure theatrics.
And, with just days to go before the decisive vote, she added another twist of the knife and refused to endorse him.
Le Pen snubbed both candidates here today and said neither Sarkozy or Hollande would be receiving her vote in the second round. If her voters decide to follow her, and abstain, Sarkozy will likely be ousted from power.
But Sarkozy's loss could be Le Pen's gain as she tries to position herself as the new voice of the right' here in France ahead of next month's legislative elections and, no doubt, the next presidential race in five year's time.
Editor:Zhang Dan |Source: CNTV.CN