Watch Video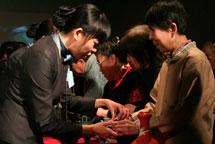 Play Video
Public museums in Beijing are becoming increasingly accessible to blind people. For those who cannot see, the Capital Museum allows them to touch high-quality replicas of ancient artifacts.
These blind men are visiting the Capital Museum. They made an appointment in advance, so the museum arranged for two guides to receive them. It's their first visit to the Capital Museum because of their visual impairment; they usually avoid public places, such as museums.
But now services like the Capital Museum's "touch" heritage is giving them a chance to learn history hands-on.
Bo Ju Li and You Gui of the West Zhou Dynasty and a Blue and White vase of the Yuan Dynasty, are the museum's three greatest treasures. The general public can only see them through the window. But blind viewers can enjoy a special treatment - they can touch exact replicas with the help of guides.
A guide in Capital Museum said, "Touch it, this is the head, and this is the legs. The pot cover, which the ancients use to eat."
In addition to touching the relics, the Capital Museum has arranged some activities for the blind visitors. Using the memory of what they felt, they are re-assembling the relics they have just touched.
A blind visitor said, "Here should be the head, and there should be the cover. It's too hard to assemble."
The blind visitors said the service impressed them a lot. The Capital Museum is well-equipped with barrier-free facilities. There are raised floor markers on the ground. In the elevator, the buttons are in Braille.
Yang Dandan, director of Social Education Dept., Capital Museum, said, "Because of this, the disabled can enjoy the museum facilities the same as the general public."
Beijing invested more than two million yuan to complete the transformation of barrier-free facilities before the 2008 Paralympic Games.
Editor:Zhang Dan |Source: CNTV.CN