Watch Video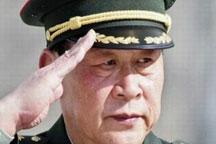 Play Video
The Chinese Minister of National Defense visit to the US follows the just concluded Sino-US Strategic and Economic Dialogue held in Beijing. Media in China says his visit is to expand on the significant breakthroughs made in the Dialogue in military fields and to keep China-US relations a healthy track.
A Chinese National Defense Official says Liang Guanglie's visit to the US is to implement consensus, enhance trust and promote cooperation between the two militaries.
Last January, Chinese President Hu Jintao and US President Barack Obama reached a consensus on building a partnership based on mutual respect and benefit. In February this year, Vice President Xi Jinping visited the US and scaled then Sino-US cooperative partnership to a new development stage. Liang's visit is to implement their achievements and push forward the development of bilateral and military ties.
But the military exchanges between the two countries have experienced ups and downs. In 2009, it was interrupted due to the US arms sale to Taiwan. The US defense secretary's visit to China in January, 2011 improved the military relations. In May the same year, the Chinese PLA Chief of General Staff visited the US and promoted the establishment of a new type military to military relation in the second decade of the 21st century. In July, the chairman of the US Joint Chiefs of Staff visited China and reached five agreements. Both sides agreed to promote development of military to military relations and strengthen cooperation to deal with global security challenges.
But the development of new military to military relations still faces challenges. For China, these include the US arms sale to Taiwan, its warships' large scale and frequent surveillance of China's coastal waters and its discriminating laws against China such as limits on high tech exports to China and now the South China Sea issue.
Expert says Liang's visit is expected to help increase mutual trust, reduce misunderstandings and promote cooperation between the two militaries.
Meanwhile the US defense department says, in return, US Defense Secretary Leon Panetta, will visit China soon after Liang wraps up his visit.
Related stories
Editor:Bai Yang |Source: CNTV.CN