Watch Video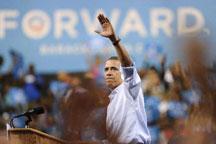 Play Video
Barack Obama has officially kicked-off his re-election campaign with a rally at Ohio State University.
Addressing a crowd of 14 thousand people, Obama acknowledged setbacks but promising to move the country "forward", a nod to his new campaign slogan. Ohio, with 18 electoral colleges' votes, is a particularly coveted prize. No Republican has made it to the White House in the last century without winning the state and the latest polls give Obama a 4.2 percent lead in the state over Republican rival Mitt Romney. Later, in Virginia, another crucial swing-state, Obama also made a speech at the Virginia Commonwealth University.
Obama said, "Yes there were setbacks. Yes there were disappointments. But we didn't quit. We don't quit. Together we're fighting our way back."
"We have to move forward, to the future we imagined in 2008, where everyone gets a fair shot, and everyone does their fair share, and everyone plays by the same rules. That's the choice in this election, and that's why I'm running for a second term as President of the United States."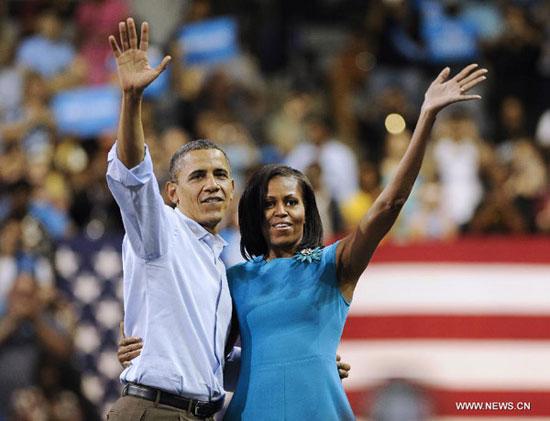 U.S. President Barack Obama (L) and First Lady Michelle Obama attend a campaign event
at Virginia Commonwealth University in Richmond, Virginia, the United States,
May 5, 2012. Obama on Saturday held two campaign rallies in Columbus of Ohio
and Richmond of Virginia, kicking off the first official campaign events for
his reelection bid. (Xinhua/Zhang Jun)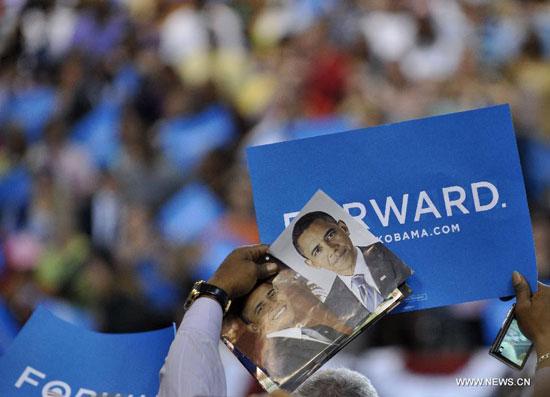 A supporter of U.S. President Barack Obama holds placards and photos when attending
a campaign event at Virginia Commonwealth University in Richmond, Virginia, the
United States, May 5, 2012. Obama on Saturday held two campaign rallies in Columbus
of Ohio and Richmond of Virginia, kicking off the first official campaign events
for his reelection bid. (Xinhua/Wang Yiou)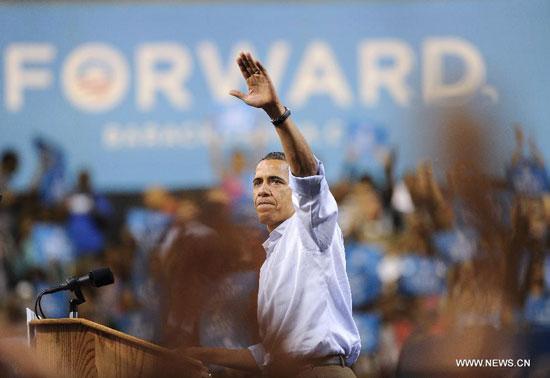 U.S. President Barack Obama attends a campaign event at Virginia Commonwealth University
in Richmond, Virginia, the United States, May 5, 2012. Obama on Saturday held two
campaign rallies in Columbus of Ohio and Richmond of Virginia, kicking off the first official campaign events for his reelection bid. (Xinhua/Zhang Jun)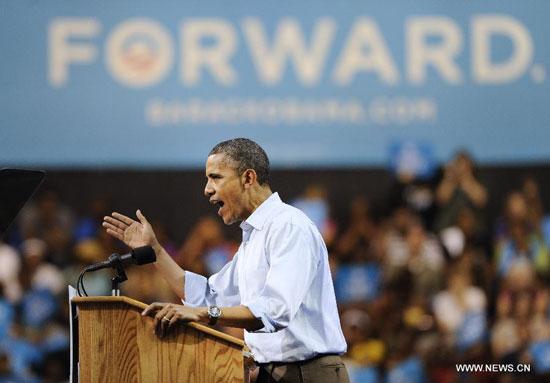 U.S. President Barack Obama attends a campaign event at Virginia Commonwealth University
in Richmond, Virginia, the United States, May 5, 2012. Obama on Saturday held two
campaign rallies in Columbus of Ohio and Richmond of Virginia, kicking off the first official campaign events for his reelection bid. (Xinhua/Zhang Jun)
Editor:Bai Yang |Source: CNTV.CN