Watch Video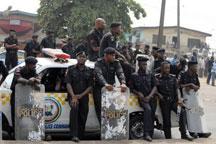 Play Video
In the wake of the violent attacks across Nigeria, various church leaders in the country are urging the government to act fast in tracking down the Boko Haram militants and restoring security of citizens. CCTV's Chima Nwankwo takes a closer look at the upsurge in violent attacks in Nigeria and examines what the authorities need to do to put a stop to the worrying situation.
It all began as a routine service but at the end this was all that was left. According to reports, a group of gunmen on motorbikes threw grenades through the window causing a stampede. They then proceeded to shoot at worshippers with rifles. When religious violence began in Nigeria, it happened once in a while but it's become a gory, daily soap opera. John Onaiyekan is a priest. He prays that the President should find the political will to deal with the security challenge.
John Onaiyekan, Catholic Archbishop, said, "We cannot congratulate government until we're safe, we must continue to tell government that you have failed, and the dangerous aspect is if the government cannot protect us, what then I will suppose to do?"
Chima Nwankwo, Abuja, said, "With regards to violence, the Catholic church has called its member to set in restraint as Nigeria is a place of law and order"
John Onaiyekan, Catholic Archbishop, said, "And I don't believe that we're reached a stage yet when I should then go to the government to ask government to supply with for people to defend themselves, cause that'll be an accident."
For this former University Teacher, even before Boko Haram showed up on the scene, Nigeria was already suffering from poverty, hardship and unemployment. He believes that all Boko Haram had to do was tap into the wellspring of discontent already pervasive in Nigeria. He disagrees with the point of view that the violence is being orchestrated by elements that lost out at the 2011 general elections.
For now, the violence appears to be spinning out of control with people being killed daily. The latest is another massacre at a cattle market in Potiskum, north east nigeria. The police chief there says Boko Haram is responsible. But frankly,no one seems to care anymore. it's always the same story, different place.
Related stories
Editor:Bai Yang |Source: CNTV.CN