Watch Video
Play Video
In Greece, last-ditch talks to form a coalition government were once again unsuccessful on Sunday. However, the country's president plans to try meeting with party leaders again on Monday.
Another effort to form a government hits another impasse for Greece. The three main party leaders of socialist Pasok, conservative New Democracy and left Syriza failed once again to find some common ground during talks with Greek president, Karolos Papoulias.
The Syriza leader, Alexis Tsipras, refused again to participate in any government that supports Greece's bailout agreement.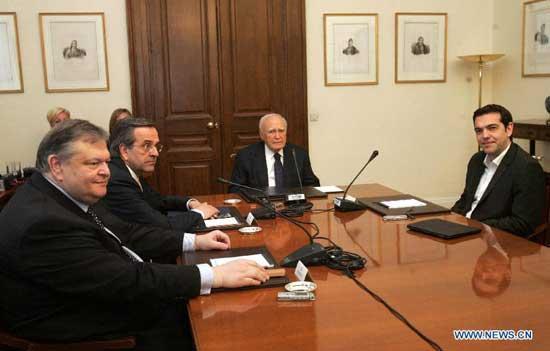 (From L to R) Greek socialist party PASOK leader Evangelos Venizelos, Conservative
New Democracy leader Antonis Samaras, Greek President Karolos Papoulias and leader of
Greece's radical leftist SYRIZA coalition Alexis Tsipras meet at the Presidential
Palace in Athens, Greece, May 13, 2012. (Xinhua/Marios Lolos)
Alexis Tsipras said, "They are not asking for our help in order to have a parliamentary majority, they have ensured this already. They are asking us to ignore what we were saying prior to the elections, to ignore the popular verdict and to give a false feeling of social consensus and to agree to a mistake."
Pasok and New Democracy have almost brokered a coalition deal with the small Democratic Left party. But all three of them demand that Syriza, the runner up of the election, has to be part of the coalition.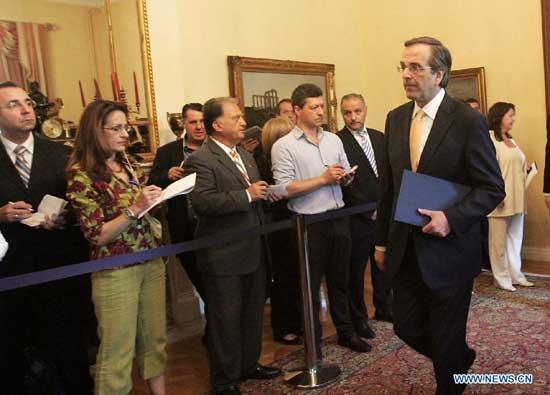 Conservative New Democracy leader Antonis Samaras (R) arrives at the Presidential
Palace in Athens, Greece, May 13, 2012. Greek President Karolos Papoulias called the
leaders of Greece's political parties to meet on Sunday, in a last-ditch effort to
broker a deal for a coalition government. (Xinhua/Marios Lolos)
Antonis Samaras, conservative leader of New Democracy Party, said, "The Greek people did not just send a message; an order was given, an order for all of us to co-operate in order to change our policies but simultaneously to remain in the Euro. They gave a coalition order for a sustainable government at least until the European Parliament Elections of 2014."
Mr. Tsipras, who rejects implementing the bailout terms, insists that he wants the country to remain in the Eurozone and believes that European leaders are bluffing when they say Greece could exit the Euro area. His party's popularity continues to grow because of his defiant anti-bailout position. Analysts say that Mr. Tsipras is eyeing on new elections, which seem to be near.
If new elections are called, according to the latest polls published here, Syriza would come first. And then he would be in a dominant position to form an anti-bailout government with smaller parties.
The Greek president also met individually with the leaders of four other parties that got enough parliamentary seats. Some of them set their own demands for the formation of a government and most refused to take part in the two-year coalition deal agreed by New Democracy and Pasok.
The Greek president has until Thursday, when the parliament opens, to try and organize a government. But with not much optimism shared among political leaders, talks will probably be over long before then.
Editor:Zhang Dan |Source: CNTV.CN