Watch Video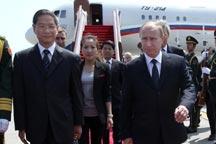 Play Video
Russian President Vladimir Putin has arrived in Beijing for a 3-day official visit. This is Putin's first time in China since regaining the Russian Presidency in May.
This is his first trip to Asia under his new Kremlin mandate. Putin is accompanied by six cabinet members, the heads of Russia's energy giants and major players in Russian business circles. Economic issues are set to figure prominently on the 3-day trip.
China is Russia's largest trading partner, whereas Russia is China's fastest growing one. The two sides have set a goal to reach 200 billion US dollars in bilateral trade by 2020, a substantial increase from the current volume of nearly 80 billion US dollars.
Inter-bank cooperation is expected to be strengthened. In particular, Russia's Bank of Foreign Economic Activity, where Putin himself is the chairman, is set to sign a series of agreements with the China Development Bank.
Energy cooperation also is high on the agenda. The two sides hope to deepen cooperation in oil, natural gas, electric power, and the peaceful use of nuclear energy. One major project is a natural gas deal where Russia will supply China with nearly 70 billion cubic meters of natural gas every year for the next 30 years. A framework agreement was signed back in 2009, but the two countries have yet to work out differences over pricing.
The two countries also hope to coordinate their positions on international issues, including Syria, the Iranian nuclear crisis, and other regional and global security affairs.
During his stay in Beijing, Putin will also attend the Beijing Summit of the Shanghai Cooperation Organization. The annual Summit will bring together Russia, Kazakstan, Kyrgyzstan, Russia and Tajikistan and Uzbekistan, with China as presiding country this year.
This isn't President Putin's first visit to China, but it might rank among his most important. Over the next couple of days, Putin will exchange opinions with Chinese leaders on a host of issues ranging from bilateral trade to regional security. The talks are aimed not only at strengthening the strategic ties between China and Russia, but also at shaping future relations in a changing region.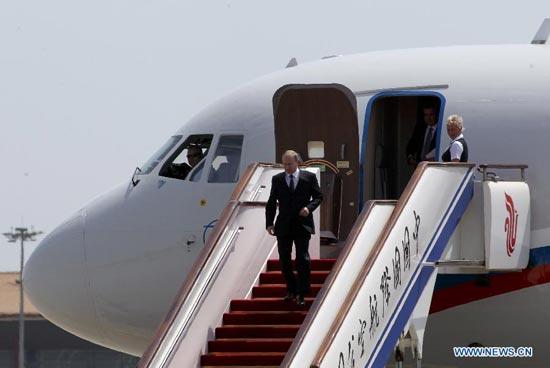 Russian President Vladimir Putin gets off a plane after arriving in Beijing, capital of
China, June 5, 2012, kicking off a three-day state visit to China. During the visit,
Putin will attend the 12th Meeting of the Council of Heads of Member States of the
Shanghai Cooperation Organization (SCO) in Beijing on June 6-7. (Xinhua/Ding Lin)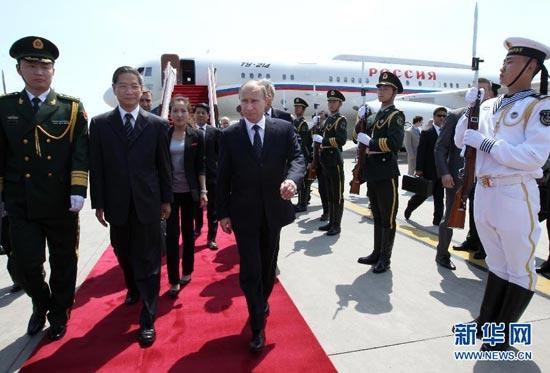 Russian President Vladimir Putin arrives in Beijing for a 3-day official visit.
Related stories
Editor:Wang Chuhan |Source: CNTV.CN