Watch Video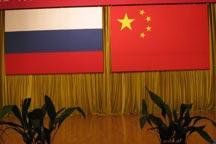 Play Video
From trade to investment, economic ties between China and Russia are improving year by year. However, some Russian experts say there are still lots of space for improvement.
Six days a week, long lines of trucks await their turn to load or unload. This is the largest brick factory in Khabarovsk, the largest city in the region of Khabarovsk Krai, in Russia.
The man behind this successful operation is Ning Yujun. He's a Chinese businessman, and has been running the factory for 5 years now.
Ning Yujun, manager of brick factory, said, "Both city and state administrations require that to address demand for residential homes, in this five years plan, more than 1.5 million square meters most be built. " So with high demand and good quality, business has never been better.
Previously, he operated an import and export business with Russians. Import and Export still plays a major role in Sino-Russian economic ties.
China is already Russia's largest trading partner and its second-largest export market. Leaders from both sides have set a trade target of 100 billion US dollars by 2015, and 200 billion by 2020. But local officials say problems lurk behind this harmonious facade.
Victor Kalashnikov, minister of Economic Dev. & Foreign Relation, Khaborovsk Krai, said, "Nowadays, 70% of Russian exports to China is energy, raw materials, as well as timber. China's exports to Russia are more balanced, with automotives and chemicals included. And in terms of investment, the activities are relatively conservative. From the total amount of investment we attract, less than 5% is from China, that's very little."
According to statistics from Russia's Ministry of Industry and Trade, in 2010, Chinese investment in Far Eastern Russia amounted to only 45.9 million US dollars, an increase of 1.5%. But Chinese investors say the business environment isn't yet mature.
Xu Xiaoguang, Transbaikal Trade Company, said, "The commerce and business environment in the Far Eastern region is not very developed. If we had a broken screw on our machine, we need to go a few hundred kilometers to get a new one, sometimes we even needed to import from China."
The Russian side realizes that there are obstacles. Infrastructure is lagging behind; the natural environment is severe, policies unpredictable. But there are trying to change this, to create a better climate for investors.
Alexander Lecintal, Gov't Representative, Far Eastern District, said, "We have begun our work. If investors from both home and abroad meet any difficulties, they can come directly to me. I will coordinate with the governors or the local officials to get rid of the barriers."
China also encourages its enterprises to invest in Russia. Currently, the two sides are working on the establishment of Sino-Russian Investment Fund. The initial capital of 1 billion US dollars is expected to begin operations this second quarter. China and Russia are neighbors and major economies in the world, the development of either side can be hardly achieved without the other.
Related stories
Editor:Wang Chuhan |Source: CNTV.CN