Watch Video
Play Video
Chinese President Hu Jintao has met his Tajik counterpart Emomali Rahmon, Kyrgyz President Almazbek Atam-bayev and Kazakh President Nursultan Nazarbayev in Beijing. The leaders are in China to attend the 12th Shanghai Cooperation Organization Summit.
While meeting with Rahmon, Hu Jintao said the two sides should maintain frequent high-level interactions on regional and international issues of common concern. Hu Jintao said China will work with the Tajik side to boost cooperation, in areas like energy resources, inter-connectivity of infrastructure and agriculture. Rahmon said facts prove that Tajikistan and China are reliable friends, adding that his country is ready to work with China to combat cross-border organized crimes.
In his meeting with Atam-bayev, Hu suggested the two countries step up cross-border infrastructure construction, including the China-Kyrgyzstan-Uzbekistan railway and highway. He called on the two sides to strengthen electric power cooperation. Hu also received Kazakh President Nursultan Nazarbayev.
It is the Kazakh President's first visit to China since the two countries established comprehensive strategic relations. His delegation includes the Kazakh foreign minister and vice Prime Minister.
Chinese President Hu Jintao (R) shakes hands with his Tajik counterpart Emomali Rahmon
during a welcoming ceremony for Rahmon at the Great Hall of the People in Beijing,
capital of China, June 5, 2012. Rahmon arrived in China's southeast coastal city of
Xiamen on June 1 to pay a visit to China and attend the 12th Meeting of the Council
of Heads of Member States of the Shanghai Cooperation Organization (SCO) in Beijing
on June 6-7. (Xinhua/Li Tao)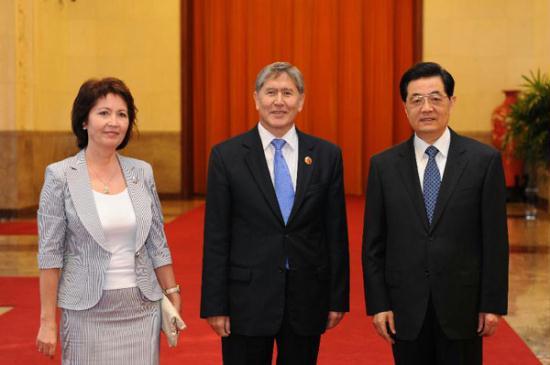 Chinese President Hu Jintao (R) holds a welcoming ceremony for his Kyrgyz counterpart
Almazbek Atambayev (C) at the Great Hall of the People in Beijing, capital of China,
June 5, 2012. During the visit to China, the Kyrgyz president will attend the 12th
Meeting of the Council of Heads of Member States of the Shanghai Cooperation
Organization (SCO) in Beijing on June 6-7. (Xinhua/Ma Zhancheng)
Related stories
Editor:Wang Chuhan |Source: CNTV.CN