Watch Video
Play Video
The grand opening gala of the 4th National Ethnic Minorities Art Festival has been held at Beijing's National Indoor Stadium. Thousands of China's minority artists gave their best performances for the Beijing audience.
Reporter: "The 4th National Ethnic Minorities Art Festival has officially opened in Beijing. It runs until July 6th, and plays host to a wide range of performances. Right now, members of 56 ethnic groups all over China are gathering in the capital for this grand event."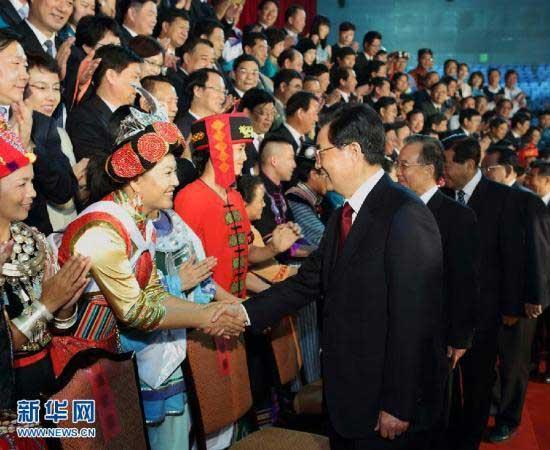 President Hu Jintao and other senior leaders on Tuesday attended an opening ceremony
for the fourth Minorities Art Festival of China at the Beijing National Stadium.
All the colorful diversity of China on display.
The National Indoor Stadium was filled by thousands of ethnic people from all over the country. They were here for the opening ceremony of the 4th National Ethnic Minorities Art Festival.
Chinese President Hu Jintao, Premier Wen Jiabao and other top leaders attended the event.
The performances were strictly selected, and of course, they were the cream of the cream.
Traditional dances from Tibet are vibrant and enthusiastic, the voices of children from Inner Mongolia are angelic, and indigenous ethnic songs bring audience members a taste of nature.
The performers traveled far for the festival. Some of them will stay for only two days, but they all feel honoured and excited. Many of them are eager to show their beautiful ethnic costumes.
Dancer Wu Xianhan said, "I'm from the Dong ethnic group in Hunan Province. What I wear is our traditional costume. Making it was a five-step process. Here you can find many decorations made of silver. We've prepared for this festival since last year. It's been a long time. I'm really excited and honoured to be here for the festival, since this chance is very precious."
Dancer Zheng Lishi said, "I'm from the Miao ethnic group. For Miao people, these clothes are usually used during grand ceremonies, festivals and parties. This hat is very heavy, with many silver decorations on it. All of these silver decorations on my costume are hand made. I'm very happy to be here. And I will bring my best to the audience. "
In addition to professional performers, grassroots minority artists are also taking part in the festival. Many of them are just ordinary peasants at home. They could hardly contain their excitement.
Performer from Hunan said, "I'm from Tujia ethnic group. I'm just a peasant and I'm so happy to attend the festival. I'll play this instrument during the performance. It is called 'Liuzi'. It's used in wedding ceremonies in my hometown. I don't know what to say, but I'm really excited."
There will be 92 performances in nine theatres in Beijing during the month-long art festival. It's hoped their routines will give Beijingers a sense of their costumes, culture and ways of life.
To appeal to a general public audience, tickets are priced between 30 and 300 yuan, much lower than commercial performances. It seems this is a great time to be in Beijing for lovers of both theater and Chinese culture alike.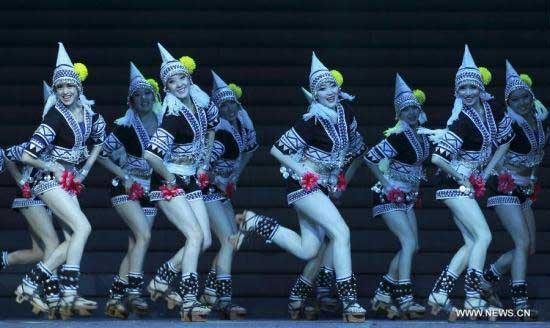 Artists of the Hani ethnic group give performance at the opening gala concert of the
fourth National Ethnic Minorities Art Festival in Beijing, capital of China, June 12,
2012. The fourth National Ethnic Minorities Art Festival opened in Beijing on Tuesday
evening. (Xinhua/Pang Xinglei)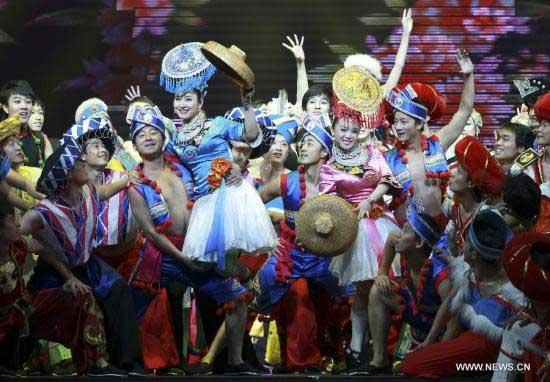 Artists give performance at the opening gala concert of the fourth National Ethnic Minorities Art Festival in Beijing, capital of China, June 12, 2012. The fourth National Ethnic Minorities Art Festival opened in Beijing on Tuesday evening. (Xinhua/Pang Xinglei)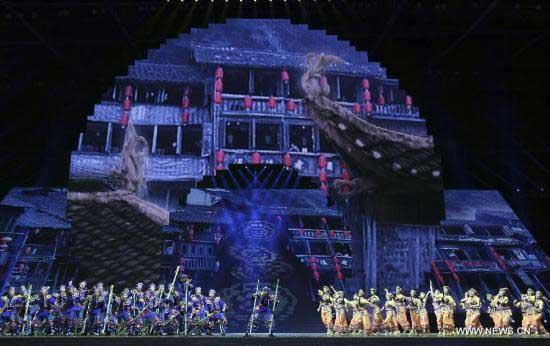 Artists of the Tujia ethnic group give performance at the opening gala concert of the fourth National Ethnic Minorities Art Festival in Beijing, capital of China, June 12, 2012. The fourth National Ethnic Minorities Art Festival opened in Beijing on Tuesday evening. (Xinhua/Pang Xinglei)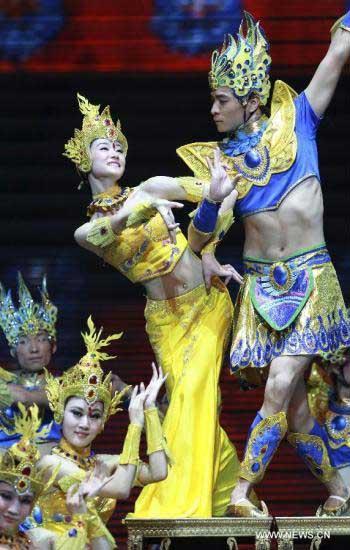 Artists of the Dai ethnic group give performance
at the opening gala concert of the fourth National
Ethnic Minorities Art Festival in Beijing, capital
of China, June 12, 2012. The fourth National Ethnic
Minorities Art Festival opened in Beijing on
Tuesday evening. (Xinhua/Pang Xinglei)
Related stories
Editor:Zhang Rui |Source: CNTV.CN