Watch Video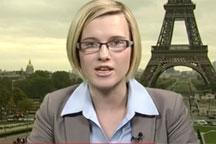 Play Video
The French new government Thursday decided at its first session to cut the president and ministers' pay by 30 percent, ensuring the people that the change has been on track as newly sworn-in President Francois Hollande had promised in his election campaign. Full Story>>
France's finance minister has released a plan to cap the pay of top executives at state-owned companies at roughly 500 thousand US dollars. The pay cut plans is part of President Francois Hollande's campaign pledge to reign in corporate excesses. For more on the issue, let's cross over to our correspondent Kate Parkinson in Paris.
Q1. How is the French public and other political parties reacting to the pay cut?
Q2. As we know, former President Sarkozy increased payments for Cabinet officials shortly after he took office. Now Hollande's administration is cutting salaries. How would you compare the two presidents in the early days in office? Can you explain how their strategies differ?
Related stories
Editor:Wang Shuo |Source: CNTV.CN