Watch Video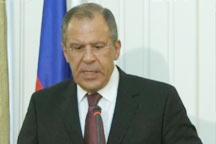 Play Video
The United States and Russia are continuing their war of words over Syria. Deeply divided since the beginning of the crisis-- the two former cold war adversaries are now mired in accusations over supplying weapons to both sides in the Syrian conflict.
On Tuesday US Secretary of State, Hillary Clinton accused Russia of sending attack helicopters...to Damascus. But her counterpart in Moscow-- Sergei Lavrov says the US is arming the opposition. Nathan King has the latest.
It was first about helicopters - On Tuesday the US accused Russia of having supplies of helicopter gunships on their way to Syria.
That was vehemently denied by Moscow- who then countered- at a brief press conference in Tehran, Foreign Minister Sergei Lavrov seemed to say the US was sending weapons to the Syrian opposition.
Sergei Lavrov says, "They (the U.S). are providing arms and weapons to the Syrian opposition that can be used in fighting against the Damascus government."
Though that statement was later qualified it drew an angry response from Washington
Hillary Clinton, US Secretary of State says, "United States has provided no military support to the Syrian opposition. None!"
Of course supplying arms to Syria is not illegal, as there is no United Nations arms embargo against Damascus, and that is at the heart of the problem. The US would very much like a tough sanctions resolution here in New York against Damascus- but so far there has been division in the Security Council. This very public diplomatic exchange is evidence of that division- a bodes poorly for the future of elations between the two counries
And experts also see this as a rivalry in a region that used to divided between east and west
Dmitri Trenin, head of Carnegie Endownment for Int'l Peace says, "the Russian government's view point, a US involvement in the civil war in Syria, a US-backed, a US-inspired involvement in the civil war in Syria would constitute a major breach in the world order
Wherever the weapons come from it's evident on the ground in Syria that all sides are using more and more lethal force - and the stand off between Washington and Moscow will do little to help the UN as it scrambles to monitor the unravelling situation on the ground.
Related stories
Editor:Wang Xiaomei |Source: CNTV.CN