Watch Video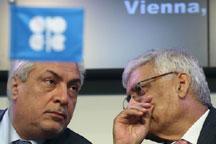 Play Video
As commodity prices have steadily fallen throughout the year OPEC ministers have agreed to maintain existing oil-production levels, despite strong pressure from Iran and Venezuela to cut supplies at a key meeting in Vienna.
CCTV correspondent Jack Barton says the ministers have also warned they will convene an emergency meeting if prices fall sharply again in the coming months.
OPEC oil ministers went into overtime in Vienna on Thursday as a meeting that was supposed to last two hours stretched to five.
There was debate over who would become the new Secretary General when Abdullah el-Badri retires at the end of the year.
But the key sticking point was a row between Iran and Venezuela that want oil production cut to push up prices and Saudi Arabia, which wants to maintain the status quo.
In the end a compromise was reached the current quota would be kept, but countries pumping above the limit would be reined in.
Abdullah El-Badri, OPEC Secretary General, said, "We asked member countries to adhere to 30 million barrels a day, now they know they are producing 31.6 barrels a day and they have been asked to reduce the one point six and here to the 30 million barrels a day."
The barrel price of oil has dropped by almost 20 percent in recent weeks to below 100 U.S. dollars.
"The sharp fall in oil prices is partly due to a slowing global economy, but also to a rise in output by Saudi Arabia which rose to a 30-year record high in April of more than 10 million barrels a day."
Analysts say Thursday's decision represents a wait-and-see approach.
Cornelia Meyer, Independent Energy Consultant, said, "I think the message here is that flexibility and optionality we need to keep all options on the table in terms of where we are going with production and we need to be flexible to adjust to economic and geo-political circumstances."
Some of those tests lurk just around the corner.
Jason Schenker, President of Prestige Economics, said, "There are three really critical factors that are going to happen in the couple of weeks that will influence prices in a significant fashion. Greek elections on Sunday, Fed meeting next Wednesday on July first the Iranian oil embargo will be fully implemented for the European Union and all of those things are going to have a huge impact and the truth is that despite what was decided today those factors will really set the prices and tenor for growth over the next quarter."
The next OPEC meeting is set for December.
But ministers at Thursday's gathering said any further dramatic fall in oil prices would trigger an earlier emergency summit. Jack Barton, CCTV, Vienna.
Related stories
Editor:Zhang Pengfei |Source: CNTV.CN