Watch Video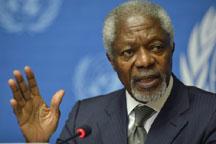 Play Video
UN-Arab League envoy Kofi Annan has announced that an international conference on Syria could take place in Geneva as early as June 30. But the composition and details of the meeting are still under discussion.
During a press conference with the head of the UN Supervision Mission in Syria, Major General Robert Mood, Annan reiterated his suggestion of holding an international conference on the escalating crisis in Syria.
He said he hoped that apart from the permanent members of Security Council, participants would include countries with influence on the warring parties in Syria.
Kofi Annan, UN-Arab League envoy, said, "The longer we wait, the darker Syria's future becomes.It is urgent that our consultations otherwise I fear we are reaching the day The time to act is now."
Annan also said that he fully supported the decision of the UN to suspend their monitoring activities due to the escalating violence.
According to Mood, the observers are currently at their team sites, conducting some administrative activities, including keeping contact with different parties in the country and having some patrols at local hospitals.
Meanwhile, Annan stressed international support is needed to solve the crisis. Swiss Federal Councilor and Foreign Minister Didier Burkhalter confirmed that he has been in contact with Annan and said that Switzerland is willing to host the "international conference on Syria".
Related stories
Editor:Zhang Pengfei |Source: CNTV.CN