Watch Video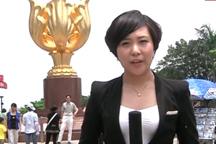 Play Video
To mark the 15th anniversary of Hong Kong's return to the motherland, we will broadcast our special program "The Pearl of the Orient". The Special program will focus on the changes and progress Hong Kong has gone through in the past 15 years and how the region is better with its unique Hong Kong spirit.
First, we are speaking to our reporter Hou Na at Golden Bauhinia Square.
Q1. Hello, Hou Na. You talked to Rita Fan Hsu Lai-tai. She must have some interesting stories since the handover 15 years ago. Can you share with us?
Q2. You've been there for a couple of days. What impressions do you have about the changes Hong Kong has gone through over the past decade and a half?
Editor:Zhang Rui |Source: CNTV.CN