Watch Video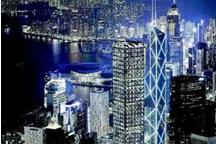 Play Video
Key to Hong Kong's prosperity is its Closer Economic Partnership Agreement with the Mainland signed in 2003. The most recent measures were announced by Vice Premier Li Keqiang in 2011 and went into effect in April.
This Hong Kong pharmaceutical company has managed to boost exports by 30 percent annually amid the global downturn. It's done so by capitalizing on closer economic ties with the Chinese Mainland.
Wong Cheong-Moon, vice president of Bright Future Pharmacy Lab, Limited, said, "Our company's growth is largely driven by preferential policies provided by the Mainland. Our products enjoy zero export tariffs there. The policy allows us to generate decent profits. It helps us to expand fast in the Mainland market."
Reporter: "As of this year, more than 1700 products produced in Hong Kong can enjoy zero tariffs when exported to the Mainland, further consolidating Hong Kong's status as an international trade center. But Hong Kong's economy is facing external headwinds. Its export sector is expected to slump this year, as the overall world economy will remain sluggish."
Gregory SO Kam-leung is head of the S-A-R's Commerce and Economic Development Bureau. He says amid the external pressure, Hong Kong's economy is seeking to build on business opportunities with the Mainland.
Reporter: "The doors to the Mainland market are opening wider and faster. Last year Vice Premier Li Keqiang announced 36 new measures for cooperation in the service industries. In Hong Kong, the service sector accounts for over 90 percent of the GDP. And one of the sector's pillar industries is finance."
A third of the measures focus on the financial sector. The central government encourages Hong Kong to develop the off-shore RMB market and financial products, and encourages mainland-based companies to go public or issue RMB bonds in Hong Kong. The aim is to consolidate Hong Kong's status as an international financial center.
Antony Leung Kam-Chung, former HKSAR Financial Secretary said, "Hong Kong has transformed into a service-dominated economy from an industrialized one. This is due to the support of the central government, as well as the rise of China in the world economy. Without closer economic ties with the Mainland, Hong Kong cannot enjoy today's prosperity."
Analysts believe that strong support from the Mainland will play a crucial role in helping the region ride out hard times. And the central government will continue to add impetus to the region's economic growth.
Editor:Zhang Rui |Source: CNTV.CN