Watch Video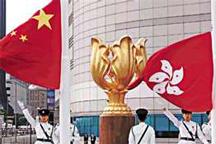 Play Video
The return of Hong Kong to China has provided many opportunities for the people of the special administrative region. Our reporter Han Bin has re-visited someone he met 15 years ago when he first went to Hong Kong to cover the handover.
Wilson Tong is the head of the GP Wedding Group. He told CCTV that the past 15 years have been good to most people, and the Mainland is a new market for business growth.
Hong Kong, where the dream started.
Guangdong, where the dream is coming true.
Wilson Tong took me to his new company in Guangdong. Four hours' drive from Hong Kong.
Two years ago, he set up this joint venture with a Mainland photo album maker.
He's branched out beyond photography into graphic design and interior decoration.
Now he has customers in Europe and the US.
Reporter: "Before 1997, would you have ever considered expanding your business on the Mainland?"
Tong said, "No. Now Hong Kong becomes a city of China, so it gives me a very big opportunity to develop our business."
I interviewed Wilson Tong 15 years ago. This is where his dream started. He already had a successful wedding photography studio.
10 years later, we met again. He had moved his headquarters to one of Hong Kong's upscale plazas.
The business went digital, with the help of his son. And Wilson Tong was ready to move beyond Hong Kong.
Reporter: "This is a far cry from where Wilson Tong started his business 15 years ago. Today, he spends most of his time in Guangdong, while his son runs the business here."
The Hong Kong studio is still the company headquarters,
It's more than wedding albums. It's the entire wedding process, from start to finish, through the honeymoon and even the first home.
Wilson says the future of his business is on the Mainland.
He's been in the business for over forty years, and has no intention of retiring soon. He's confident technology will take him even further as the market expands.
Reporter: "What's your next step?"
Tong said, "We plan to do the Mainland business from beginning in Guangdong, later; we hope we can do it the whole China."
Reporter: "That was me ten years ago. Life has changed everyone."
Reporter: "And this is me 15 years, after Hong Kong's return. We've seen the success story of Wilson Tong. Life goes on, but life also changes, for the city and the people."
Editor:Zhang Rui |Source: CNTV.CN