Watch Video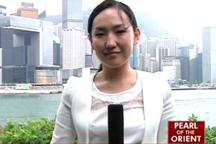 Play Video
To mark the 15th anniversary of Hong Kong's return to China, we will broadcasting our special program "The Pearl of the Orient". We'll take a closer look at the changes Hong Kong has gone through over the past 15 years making it the powerful metropolis it is today. We've had some of our top reporters on site for several days. Joining us for the second day of our special program is Guan Xin at the Hong Kong Exhibition Centre, and Xie Sisi at Hong Kong's Times Square. Thank you very much for joining us, you two.
Let's cross over to Guan Xin at the Convention and Exhibition Centre. Hi, Guan Xin, the Exhibition Center is a symbol of Hong Kong's vigor and importance as a meeting place.
Q1,How do you feel about the business momentum of the city?
Well 15 years ago, the return of Hong Kong to China stoked concern that its status as a global financial and commercial center would slide. However, now the city still stands as the world's best place for businesses.
In the first half of 2012, more than 200 overseas and mainland companies set up or expanded in Hong Kong, up more than 5 percent from a year ago. That is encouraging growth, because the world economy is in uncertainty. Many companies are holding back their investment activities. However, Hong Kong still achieved positive growth in inbound investment.
The Chinese mainland is the largest single source, followed by the US, and Japan. That reflects Hong Kong's traditional strength as a global financial hub and the recent trends, such as the increasing number of Chinese companies using Hong Kong to help them go global.
Q2. What challenges are local companies in Hong Kong facing, given the shaky world economy?
Editor:Zhang Rui |Source: CNTV.CN