Watch Video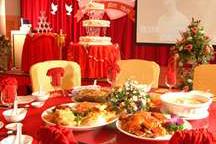 Play Video
Hong Kong is home to some of the most food-obsessed people in the world. Its catering industry is grateful for that, especially during the global downturn.
Reporter: "If there's one thing Hong Kong is famous for, it's its wide variety of cuisines. Having a splendid mix of Chinese and Western cuisines - and it's also a great place for seafood - behind me it's one of the best seafood restaurant in town, so let's try it out."
This restaurant's name proudly proclaims its specialty. Ah Yat Abalone is named after founder Yeung Koon Yat. His secret recipe has earned him the reputation as "the king of abalone".
Yeung Koon Yat said, "In my restaurant, our chef uses the high-quality abalone selected from Japan, plus my unique recipe, giving Ah Yat Abalone incomparable taste and flavor."
He's even been invited to cook for Chinese leaders at the Great Hall of the People and the Diaoyutai State Guest House in Beijing. So just how good is it?
Reporter: "So let's try it out, yummy super nice."
Despite the gloomy global economy, people still have to eat. And for visitors to Hong Kong, food is one of the main attractions. This is especially true for visitors from the Mainland, whose numbers have soared in recent years. Their healthy appetites help sustain Hong Kong's catering industry.
Many people enjoy going to "Yum Cha" or drink tea, with family and friends. It's best to go with a group to sample an assortment of traditional snacks called dim sum, like the steamed pork dumplings called Shumai, chicken feet and cheong fun rice noodles.
Yeung Koon Yat said, "Every single dish is cooked on site to ensure taste and freshness. You will find it's worth the wait when you just take a bite. Even our fried rice is made from top ingredients with the best cooking skill."
The local tea shops are easy on the budget. Each day diners line up for Hong Kong's signature milk tea and egg-tarts. The tarts are one form of dim sum, which means "touch the heart"… because … they "hit the spot".
Editor:Zhang Rui |Source: CNTV.CN