Watch Video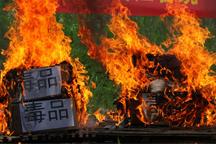 Play Video
Tuesday marks the International Day against Drug Abuse and Illicit Trafficking. Local police in the Kunming City and Yuxi city have destroyed over 50 tons of chemicals used for drug manufacturing. This marks the largest public destruction of drugs in southwest China's Yunnan Province.
The drugs are being destroyed at a cement plant in order to give adequate consideration to the environmental impact. By burning them in a boiler at high heat, the gas emission will be harmless. Yunnan is located at the southwest frontier of China and adjacent to the "Golden Triangle". Various drugs flow from neighboring countries into China.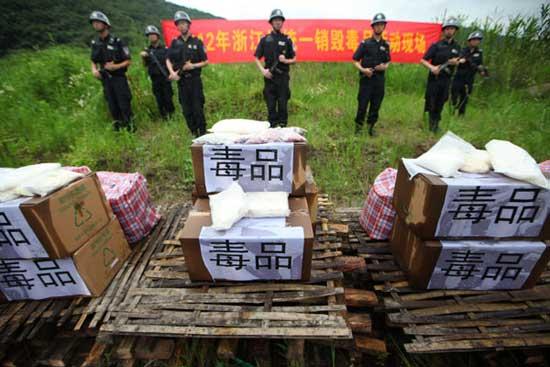 More than 300 kilograms of drugs seized in East China's Zhejiang province are destroyed at
a waste disposal center in the capital city of Hangzhou, June 25, 2012. The drugs include
heroin, methamphetamine, cocaine and Ecstasy. The International Day against Drug Abuse and
Illicit Trafficking falls on June 26. [Photo/Asianewsphoto]
Yuxi is located in central Yunnan province. Police there destroyed about one ton worth of drugs. Most drug users in Yuxi are teenagers. Some experts say, if there is no strengthened prevention education, more and more teenagers would become regular drug users.
Latest figures show Chinese police have captured more than a half million suspects involved in drug-related criminal cases between 2005 and 2011. China had a total of about 1.8 million registered drug addicts as of the end of 2011. Over 55 percent of them were 35 years old or under.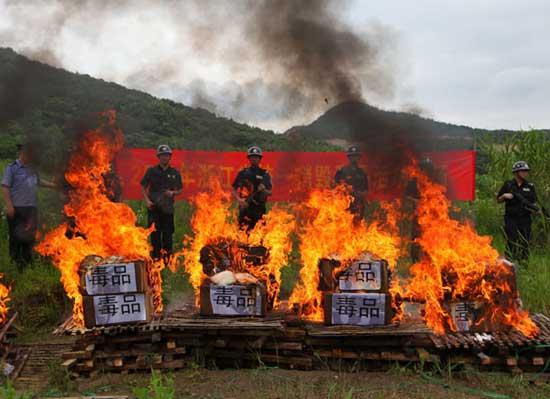 More than 300 kilograms of drugs are destroyed at a waste disposal center in Hangzhou,
capital of Zhejiang province, June 25, 2012. [Photo/Asianewsphoto]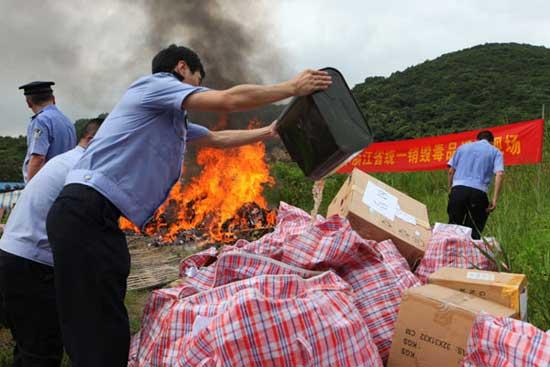 Police pour gasoline on seized drugs at a garbage disposal center in Hangzhou, June 25,
2012. [Photo/Asianewsphoto]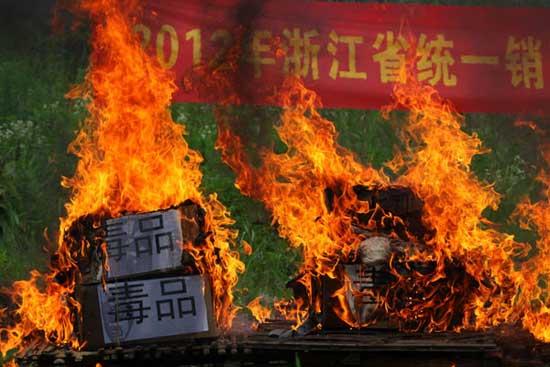 More than 300 kilograms of drugs are burned at a waste disposal center in Hangzhou,
capital of Zhejiang province, June 25, 2012. [Photo/Asianewsphoto]
Editor:Zhang Rui |Source: CNTV.CN