Watch Video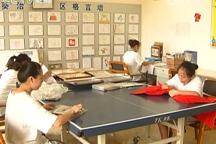 Play Video
The importance of the anti-drug battle becomes clear when looking at the lives of those with drug dependencies.
The fence appears to shut out the warm environment outside. But the Beijing Yanqing rehabilitation center is considered home by some patients.
Behind the cold iron doors is the home of the pilot Sunflower Community, which consists of 22 females with drug dependencies.
The dorm is tidy and clean, but its owner, Liu Yanling, was once messed up with heroin and methamphetamine, also know as "ice".
Liu said, "I first tried drugs in 1989 when I was 16. I thought it was 'cool' and 'fashionable' and then I was on and off drugs all these years. It's my 7th month here and I do hope I could quit my drug addiction, even though it requires tremendous strength and will-power."
Every second in the rehab center counts. Besides ordinary medical treatment, the patients are assigned to different art groups, even management teams.
Embroidery is found to be effective in building self-confidence and temper control. It's part of the psychological restoration and physical recovery.
Guo Xiaoqing, deputy chief of Beijing Yanqing Rehab Center, said, "The Sunflower Community is the first and only one in China. The patients here are self-managed and police officers are seldom involved. Through this method the patients will establish a sense of self accomplishment and see the possibility of taking control of their own lives. This gives them self-confidence to quit drugs."
The sunflower dance is arranged by the patients themselves. Holding their heads up and embracing the sunlight is a true portrayal of their lives. However, the shadow of the past is hard to erase totally.
Liu said, "In fact, every time I took drugs again I knew I would be caught sooner or later. This time I don't want my family to visit me because it brings them so much trouble. I'm deeply sorry for my family, especially my son. I owe them too much."
Reporter: "The anti-drug combat could no just focus on prevention and access to treatment for those with drug dependencies, but also the production and distribution of illicit drugs. Winning this battle could not be easy. It requires a huge effort from everyone, friends, family, and law enforcement officers."
Related stories
Editor:Zhang Rui |Source: CNTV.CN