Watch Video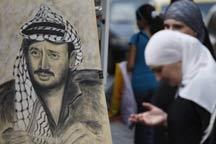 Play Video
Investigation into the death of the late Palestinian leader Yasser Arafat was sparked after allegations that he might have been killed by radioactive poisoning, after traces of the lethal polonium-210 isotope were found on his clothing. Al-Jazeera television has commissioned a Swiss lab to perform an autopsy.
During Feburary to June this year, the Institute of Radiation Physics in Lausanne tested the clothing of Yasser Arafat. They found significant traces of Polonium-210, 20 times the dose needed to kill a human.
But the institute's director says this cannot confirm the presence of polonium in Arafat's body.
Francois Bochud, director of Inst. of Radiation Physics, Lausanne, said, "We may be asked to test his body. We will use equipment extremely sensitive to Alpha radiation. The equipment can enable us to test before we touch his body. This will give us a better result."
Dr. Pascal Froidevaux is the one who tested Arafat's belongings. He shows us the process and the sample of the clothing contaminated with polonium. He says once the body is injected with the substance, about 90 percent will be discharged. Polonium will weaken by half every 138 days. Arafat has been dead for nearly 8 years.
Dr. Pascal Froidevaux said, "There's very little radioactive residue, and it's weakening to 1 percent. Even though we can find polonium, it's hard to prove whether he is poisoned by the material because of the small dose. I want to say, it's too late, it's a pity."
Editor:Zhang Ning |Source: CNTV