Watch Video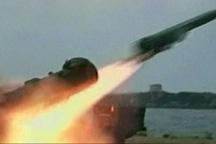 Play Video
The country's military is holding a new round of drills - test firing live missiles. The operational manoeuvres are taking place even as international peace envoy Kofi Annan is in Damascus to try to reignite a peace process, which he says has failed thus far.
Exercises against 'outside aggression' - that's how Syrian state TV has described large scale military manoeuvres carried out in an unknown coastal location.
Battleships, speedboats, missiles launched from land and sea - a display of military confidence as the Assad government faces increasing diplomatic pressure.
Syria's Defense Minister - clearly seen surrounded by senior officers - a scene likely designed to offset the defection of a member of Syrian President Bashar al-Assad's inner circle, General Manaf Tlas, just days ago.
A display of confidence also from President Assad - seen here on German television - blaming the United States and 'terrorist elements' on the 15-month uprising.
And, a day after he declared his peace plan a failure - UN/ Arab league envoy Kofi Annan arrived in Damascus -
Annan's team of UN observers - finally able to leave their base at the Dama rose hotel in the Syrian capital - several weeks since widespread violence interrupted their mission:
Sausan Ghosheh, UN spokesperson, said, "The mandate was to monitor the cessation of violence, but since then there has not been a cessation of violence. In fact there has been an escalation. "
The observers now headed to Homs to tour hospitals and schools - responding to reports that schools have become safehouses and hospitals lack basic supplies. Homs itself - as this Amatuer video shows - still under siege by government forces and still burying its dead.
As the Annan-broked peace plan was set to be put into effect since April for all sides to lay down their arms, ceasefire was not a reality on the ground.
Editor:Zhang Dan |Source: CNTV.CN