Watch Video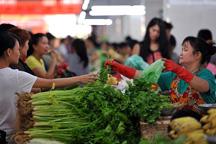 Play Video
Fresh data released by the country's official statistics agency shows China's consumer price index, rose just 2.2 percent in June easing from the 3 percent rate seen in May.
Compared with data in the first half of last year, CPI rose 3.3 percent on a month-on-month basis, prices decreased by 6-tenths of a percent, lower than the 0.3-percent drop in May. China's annual inflation target is 4-percent for the year, although after today's figures, analysts say it could come in lower than that.
Food prices account for nearly a third of the weighting in the CPI basket - they rose just 3.8 percent last month versus a 6.4-percent rise in May and was once again the major factor that drove prices down in June with pork prices falling over 12-percent last month.
As for China's Producer Price Index - a main gauge of inflation at the wholesale level, it fell 2.1 percent in June deeper than May's 1.4 percent drop, marking a fourth straight month of declines on a month-on-month basis, the country's PPI in June decreased 0.7-percent.
The country's PPI dropped in March of this year for the first time since the depths of the financial crisis back in December of 2009.
Editor:Zhang Dan |Source: CNTV.CN