Watch Video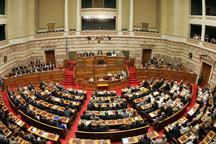 Play Video
Greece's new government has smoothly won a vote of confidence in parliament. The result follows the Government's promise to complete reforms demanded by international creditors to a secure a bailout. Athens is also expected to speed up privatisations and boost competitiveness to turn around the recession-hit economy.
A crucial vote not only for the future of Greece, but the entire euro zone. Despite the tough austerity measures that will see endless cuts and tax hikes, Greek lawmakers have decided to stick to the agreed bailout terms.
Vangelis Meimarakis, parliamentary speaker, said, "A total of 300 deputies voted. A vote of confidence was given by 179 deputies."
But after the vote, some key politicians welcomed the government's promise to ease austerity measures while still meeting demands of EU-IMF creditors.
Dora Bakoyanni, New Democracy MP, said, "I think that the government sent a very clear message, they are determined to go on with the necessary reforms and this is the main issue for Greece, and I hope that the Eurogroup tomorrow understands how big the challenge is for Greece, and how well prepared we are to proceed and to achieve the goals."
However, there were also voices of objection. Opposition party members criticized that the government had lied about its promise to re-negotiate the bailout agreement.
Zoe Konstantopoulou, SYRIZA MP, said, "We do not hold any hope that this government is going to re-negotiate anything. Anyway, Mr. Stournaras, the finance minister has already said so, laying to rest any doubt about their intentions regarding negotiation."
The vote wrapped up three days of debate in parliament which centred on Greece's economic situation. However, the road ahead is still tough. The Greek Finance Minister will attend the Euro zone finance ministers meeting in Brussels Monday, where he is expected to discuss Greece's wish to ease the terms of its bailout agreement. However, that won't be easy as EU and IMF officials have shown stiff resistance to any talk of renegotiation.
Editor:Zhang Dan |Source: CNTV.CN